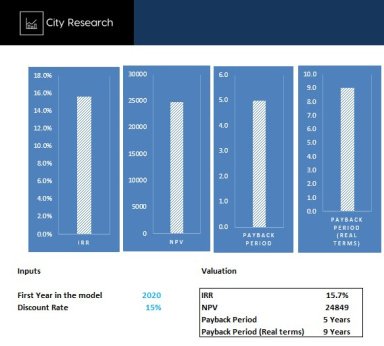 Quick NPV, IRR, Payback Period Valuation Investment / Project Feasibility - Appraisal Model
A Spreadsheet for a quick Net Present Value (NPV), Internal Rate of Return (IRR) and Payback Period (PPP) calculation.
Nikolaos Giannoulis, CFA, AFM, CFM, MSc offers you this Best Practice for free!
download for free
Add to bookmarks
Further information
To quickly calculate NPV, IRR and Payback period for an investment.
Easy to use and quick valuation and project appraisal.
To make decisions on where to invest. A more complex model would need to be used.