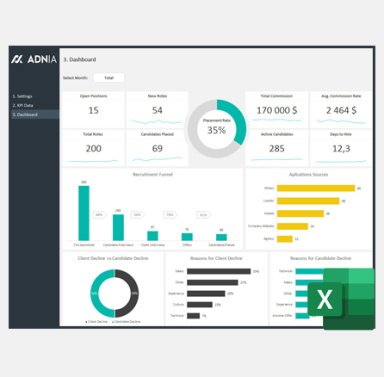 HR Recruitment Dashboard Template
HR Recruitment Dashboard Template

by Adnia Solutions
High Quality Excel Spreadsheet Templates and Dashboards
Follow 12
Description
The HR Recruitment Dashboard Template allows you to track the 12 most important key performances indicators in HR recruitment . The spreadsheet template is specifically designed to aid recruitment companies and HR departments so that they can measure the success of their recruitment processes.

The template tracks data month by month so that users can spot potential trends. The template streamlines evaluation of the recruitment process, allowing you to spot areas in need of improvement right away. On the other hand, it can show your staff how great they are doing! The template is available in two different colours so that you can choose the one closest to the colours of your company.

Key Features

● Monitor HR recruitment progress monthly
● Provides actionable insights to correct inefficiencies
● Consolidate all your HR metrics in one place
● Easily keep your team informed
● Clearly visualize results with easy-to-interpret charts
● Multilingual template: Select one of the available languages (English, French, or Portuguese) or manually translate to the language of your choice

Simple and Professional

● Fully unlocked template
● Side menu for easy navigation between pages
● Spreadsheets ready for printing without Adnia logo
● Immediate download

Other Information

● Built for Excel 2010 or later
● Licensed for Private Use Only (not for distribution or resale)

The template may NOT be sold, distributed, published to an online gallery, hosted on a website, or placed on any server in a way that makes it available to the general public.
This Best Practice includes
This includes one sample spreadsheet and two spreadsheets to input data that are in different colours.
Acquire business license for $49.00
Add to cart
Add to bookmarks