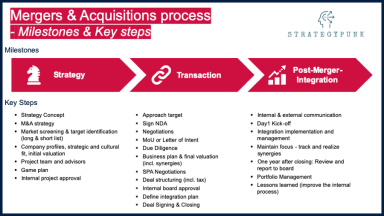 M&A (Mergers & Acquisitions) process
Mergers & Acquisitions process - Milestones & Key steps
StrategyPunk.com offers you this Best Practice for free!
download for free
Add to bookmarks
Further information
Basic Mergers & Acquisitions process with the major milestones and key steps for the ultimate success of your deal.
With this tool also relative newcomers can learn how to lead and create value in any M&A deal.