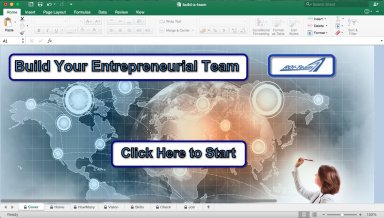 Team Builder Toolkit
Excel tool for building a team for your business.

by David Connaughton
Owner, ROI-Team, Inc.
Follow 32
Description
This excel tool will help you to establish three key things:

- How many partners (co-owners) and workers you can afford as a business
- What to discuss with them to help you find capabilities that mesh with yours
- Thoughts about writing job descriptions

The "How Many" tab is an incredibly helpful tool in establishing how many people your business requires. You are able to edit your required revenues, your salary, the salary of your partners etc. as well as expenses and interest in order to establish just how big a team you can afford.

These inputs will allow you to establish your gross margins, cost of goods sold and amount available for salaries. This is a great tab for establishing the number of staff that your venture can afford to take on.

The "Vision" tab allows you to visualise the key aspects of your business operations. This tab divides three key aspects down into their fundamental features:

- Business Model
- Systems for Management
- Operating Processes

This tab allows you to analyse all of the key features that are essential to your operations, from human relations to marketing and sales.

The "Skills" tab will help you to identify the individuals that you need to take your venture forward. This helps to identify the key skills needed in different areas of your business.

Ultimately, this is a great tool for establishing the number of workers that your venture will be able to employ as well as helping to identify the individual traits that will suit your business.
This Best Practice includes
1 Excel Spreadsheet
Acquire business license for $2.00
Add to cart
Add to bookmarks