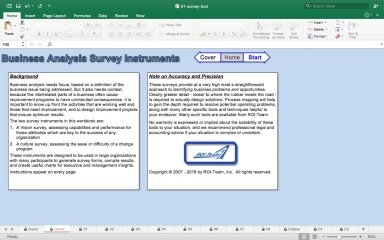 Sales Toolkit
Sales toolkit including 5 excel files and 2 PowerPoint presentations that will help you to boost your sales performance.

by David Connaughton
Owner, ROI-Team, Inc.
Follow 35
Description
This is an extensive toolkit for boosting your team or business' sales performance. The kit includes 5 excel files and 2 PowerPoint presentations that are designed to help you boost sales.

The excel workbooks include:

- Survey Tool
- Value Proposition Tool
- Base Case Tool
- Metrics and Gaps Tool
- Business Case Tool

As such, this toolkit will help you to conduct a thorough analysis of your sales performance.

The first tool will help you to analyse your business. This will allow you to identify things that are working well as well as areas that require improvement so that you can create improvement projects.

The value proposition tools allows you to establish where the value of your product lies, and how it will be valuable for your prospective customers. This workbook suggests ways in which you can build a winning value proposition.

The base case tool will allow you to know more about your customer and their finances. It is important to actually find out whether prospective customers can afford the product that you are offering. This workbook will help you to answer key questions on this subject.

In the metrics tool, you will find out how to go about identifying and measuring the metrics that are fundamental to your prospects.

The two PowerPoint presentations will help you during sales processes. They offer a useful layout and structure of how to approach the closure of sales that can be used in different cases.

This toolkit includes lots of useful and helpful information that will allow you to improve your business' sales process, and, ultimately, close more sales.




Currently available at sale price.

This Best Practice includes
1 Excel Spreadsheet
Acquire business license for $5.00
Add to cart
Add to bookmarks