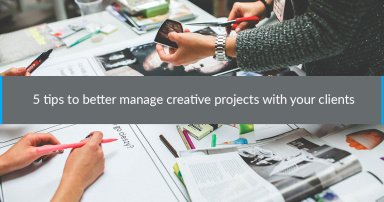 How to better manage creative projects with your clients in 5 tips
This Best Practice provides you with 5 top tips to better manage creative projects with your clients.
Introduction
Website creation, visual identity development, new advertising campaign launch, event organising or even public relations management💡 – they are all projects that belong to creative agencies🧠. Even though the principles of project management stay the same for all business sectors, this type of projects is not to be addressed in the same way than that of a house construction work or car production process🚗🏠.
Marketing and communications are completely abstract sectors for some clients. In order to cooperate efficiently and in the best conditions possible, you should explain to them operations of your creative agency as well as your way of managing projects🗣.


Tips to better manage creative projects with your clients :


• Inform your clients about the creative process🗣,
• Define the creative project from its very beginning✍🏼,
• Prioritise communication🥇,
• Set up the limits🚫,
• Use adjusted tools🔧.


Discover 5 tips to better manage creative projects with your clients!
Step n°1 |

Inform the client about the creative process🗣

A creative agency does not operate in the same way as a production plant. Your clients should understand it so that they do not make your project fail by continuous rejections of your propositions, by having unrealistic expectations as well as by asking for too many modifications👀 🗣.
Take your time to explain to each and every new client your agency's operating methods and the creative process as well as the time necessary to create each deliverable⏰ 📆.


For instance, the web site creation process is much more complex than many would think, as on top of the general structure, tables and pages, it is also necessary to create the SEO content, to assure a good level of conversations and create social media pages that will be associated with it👨🏽‍💻.


By being transparent about your operation methods, you are setting up a base for a healthy relationship🤝. The client understands how you work, they know the realistic timeframes necessary for a completion of a website, for example, and they largely appreciate the value of your work💪🏽. It will equally help you justify your estimations when it comes to the budget and deadlines💰📆.

Step n°2 |

Define the creative project from the very beginning✍🏼

In project management, no matter what the field of activity is, it is crucial to define the project before getting started. In communications and marketing sector, some clients do not really know what they want. They have nothing but a vague idea and the contours of their projects are not clearly defined. Such situation brings the risk of multiple problems arising🤯 :


• boundaries and objectives will continue to change according to the client's wishes and mood;
• the client is going to end up frustrated;
• the project is going to have a delay;
• you risk of losing money.
For a project to succeed, you and your client must have a clear and precise vision on it🧠. Discuss it with your client, advise them and help them precisely define the contours of their project by determining the following✍🏼👀:
• their objectives and expectations,
• limitations of the project,
• audience,
• Graphics (logo, colors, font, etc.) and/or design,
• type of content (information on products/services, photos, texts and key words, etc.),
• budget and deadlines.


Before getting yourself involved in a creative project, you should have a clear understating of the client's vision👁, know exactly what they want and what the final users will need out of it✅.
add_shopping_cartContinue reading for free (70% left)