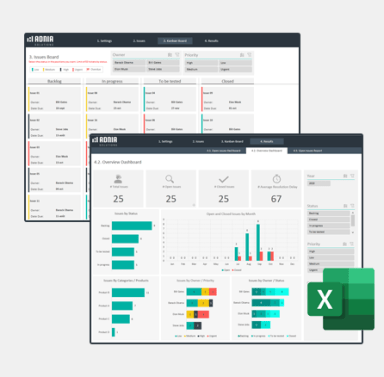 Issue Log Excel Template
Monitoring delays and results with this tool is a smart use of your time.

by Adnia Solutions
High Quality Excel Spreadsheet Templates and Dashboards
Follow 11
Description
Increase your efficiency with the Adnia Solutions Issue Log Template. This Excel spreadsheet is the right solution for documenting, prioritizing, and resolving issues in your project. This template features two dashboards, a Kanban board, and a detailed report.

Monitoring delays and results with this tool is a smart use of your time. Quickly sort issues by team member, category, status, date and more. Keep up with your project management documentation so you are always current and ready to make good decisions.

Key Features

• Two Dashboard designs: Open Issues Dashboard and Overview Dashboard
• Kanban Board with up to 50 tickets per status level (4 status levels). Sort by Priority and Owner
• Open and Overdue Issues Report available to print or incorporate into reports and presentations
• Flexible template format supports many indicators
• Communicate with your project team and track your goals over time

Simple and Professional

• Microsoft Excel spreadsheet template
• Side menu for easy navigation between pages
• Spreadsheets ready for printing without Adnia logo
• No monthly fees
• Immediate download
• Secure payment with PayPal or Stripe (no account needed)
• Fully unlocked template

Other Information

Built for Excel 2016 or later
• Windows Only
• Licensed for Private Use Only (not for distribution or resale)

The template may NOT be sold, distributed, published to an online gallery, hosted on a website, or placed on any server in a way that makes it available to the general public.
This Best Practice includes
1 template with sample data; Two templates in different colors ready to receive your data
Acquire business license for $49.00
Add to cart
Add to bookmarks