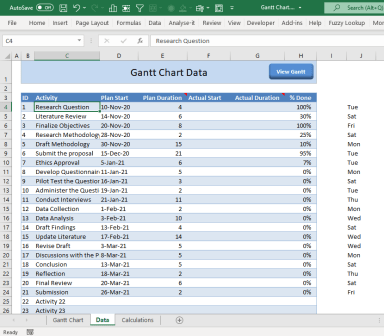 Gantt Chart in Microsoft Excel
Gantt Chart in Microsoft Excel | Manage your Project Efficiently

by Rahim Zulfiqar Ali
Founder & CTO - XLR8 Tech Solutions, CEO - Excel Basement, Excel & POWER BI Trainer & Consultant, MBA (MIS), MCT, MSOM, Data Analyst, Power Platform
Follow 129
Description
This template contains 3 excel worksheets:
1. GANTT CHART
2. DATA
3. CALCULATIONS

Many people have never heard of a Gantt chart. Simply put, a Gantt chart is a bar chart that provides a visual view of tasks scheduled overtime. A Gantt chart is used for planning projects of all sizes, and it is a useful way of showing what work is scheduled to be done on a specific day. It can also help you view the start and end dates of a project in one simple chart.

The vertical axis of a Gantt chart shows the tasks that need to be completed, while the horizontal axis represents time. As you input tasks, their start dates, their end dates, and their dependencies, bars will populate, which represent task durations.

Why use a Gantt chart?
A Gantt chart is used for the following activities:

Establish the initial project schedule - who is going to do what, when and how long will it take.
Allocate resources - ensure everyone knows who is responsible for what.
Make project adjustments - the initial plan will need many adjustments.
Monitor and report progress - helps you stay on schedule.
Control and communicate the schedule - clear visuals for stakeholders and participants.
Display milestones - shows key events.
Identify and report problems - As everything is depicted visually you can immediately see what should have been achieved by a certain date and, if the project is behind schedule, you can take action to bring it back on course.
This Best Practice includes
1 Excel file
Acquire business license for $20.00
Add to cart
Add to bookmarks