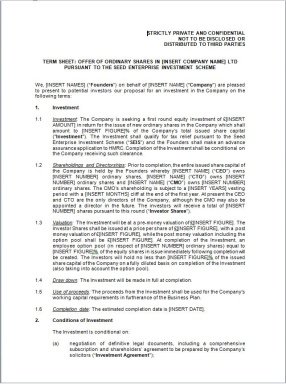 Angel Investment Term Sheet Template
A founder-friendly term sheet template for angel investment.

by Jonathan Lea
Corporate and Commercial Solicitor focusing on Tech Startups
Follow 111
Description
This is a well-balanced, founder friendly term sheet. This is particularly helpful for raising a round of equity investment that will qualify for tax relief pursuant to the SEIS.

SEIS Model Term Sheet

A term sheet, aka heads of terms, outlines the preliminary terms of a deal that have been agreed upon. Before beginning the due diligence process, the term sheet is agreed upon and signed. After the investor has completed due diligence, comprehensive and more definitive legal documentation is negotiated and signed. The term sheet is really just for covering the deal in principle, and so the finer details are reserved for the final legal agreements.

SEIS Funding

Although a term sheet doesn't create a legally binding document, when getting involved in a new transaction, you should always begin with one. Be careful to pay attention to what is included, because it can be very hard to get the party on the other side of a transaction to change their minds on something once it has been put on paper. The last thing you want is for your bargaining position to be affected.

When dealing with more professional investors in larger deals, a lot of the time the angel or VC will produce their own term sheet. You should always ask if the preferred terms can be negotiated. For smaller SEIS level investments, it is common that the investor will ask the founder to produce their suggested term sheet. This gives the entrepreneur a chance to put a more founder-friendly term sheet on the table, whilst making sure that its balanced enough to entice investors and not scare them away.

Pre money and post money

Before the investment round, usually the investor will agree with the company on a valuation. This 'pre-money' valuation will then be used so that they can determine the price per share that will be paid by the investor once their investment in the company is completed. You can calculate the price per share by dividing the 'pre-money' valuation by the company's fully diluted no. of shares immediately prior to completion. The company's fully diluted share capital will usually include issued shares, shares that have been allocated to an employee option pool, and any other shares that the company may be required to issue via warrants, options, or other convertible debt instruments.

Share option pool

In an early stage investment, if the company has no ESOP, the investor could insist that one be created. The point is that an incentive is provided for the employees because this way they can share the financial rewards that have been gained due to the company's success. Usually, the investor will want that 10-20% of the company's share capital is reserved for an ESOP to create an option pool.
This Best Practice includes
1 Angel Investment Term Sheet Template
Jonathan Lea offers you this Best Practice for free!
download for free
Add to bookmarks