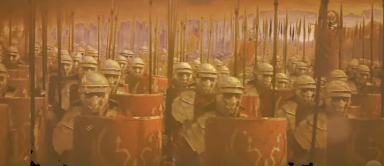 Why Roman Auxiliary Troops give us insights for FP&A
INFORMATIVE READINGS - Top Management meetings where FP&A plays a central role

by Dr. Gian Paolo Avanzo
Founder and CEO at Crown Consultancy Services Ltd, I worked as CFO and SAP senior FICO/Project/Transformation manager worldwide. I am committed to inspiring awareness of Best Planning Practices.
Follow 16
Description
WHO SHOULD READ THIS DOCUMENT?
Entrepreneurs, Managers, CFOs, Controllers, Financial Managers, Key Users, Auditors, Tax Advisors, Bank Managers, Financial Analysts, Management Consultants, Business Professionals.

TOPIC
Roman Empire army can still teach something nowadays to enhance Enterprise Integrated Financial Planning (EIFP) as part of FP&A.

Adopt an innovative approach for financial planning analysis during board meetings that supports corporate decisions and assists with strategy definition.

The preparation of top management meetings where financial planning analysis plays a central role is a demanding task, whether it is performed in SMEs or Large Organizations.

Different size of the business drives different types of difficulty, such as coordination, harmonization and common approach in large fragmented corporations or lack of time, resources and skills in SMEs.

During the meeting you, as a financial professional, need to support the discussion with accurate and meaningful data and help the managers for any question that may arise around forecasted figures.

As far as more questions are put forward, you should be able to respond quickly or, as a second less welcome option, take note as an action item for the next meeting.

But what happens if unexpected alternative scenarios are foreseen during the meeting?

What if the magnitude of the scenarios impact cannot be easily and quickly traced and measured across the entire company business processes?

What would be the consequences on company profitability?

Would it also affect the company in term of re-thinking strategy?

And what if these scenarios cannot be simulated on the fly despite the real time access to backbone applications (ERP, BI, analytics etc.) which are far too rigid and require an off-line preparation simply not feasible right now?

In other words, what if you cannot quickly address the board questions?

Well, as said before you can certainly argue that these scenarios can only be prepared for the next meeting, but you may not "carpe diem" to impress the board of directors right now.

After all, you prepared the meeting meticulously, accompanied by the required documentation, knowing what kind of questions would have been asked due to your long experience, so what went wrong?

OUR INNOVATIVE EXCEL/VBA SOLUTION FOR ENTERPRISE INTEGRATED FINANCIAL PLANNING (EIFP)
We, at Crown Consultancy Services, know that it is possible to develop an Excel application with the highest degree of security, data consistency and reliability to elevate Excel to the rank of professional EIFP application.

For this reason, we designed, developed and market ProfitQube™ – the first and the only EIFP software – that brings together the ease of use of Excel, the power of VBA language and the end-to-end business process simulation for manufacturing, trade and services companies within one modelling environment.

ProfitQube™ is a simulation software tool that provides Excel interface for modelling complex integrated financial projections producing IFRS Financial Statements with Charts, KPIs, Ratios and more.

ProfitQube's mission is to enable SMEs, Large Organizations and Financial Professionals to manage budgets, forecasts and plans for critical decisions.

New Product - ProfitQube Consolidation is now available.
ProfitQube Consolidation is a management accounting add-on of ProfitQube which enables the consolidation of Income Statement, Balance Sheet and Cash Flow (Direct and Indirect).

The consolidation process is aimed both for corporate internal control, plan, budget or forecast and for evaluating strategic investments and joint ventures.

Crown Consultancy Services Company is a leading provider of EIFP financial simulation software.
This Best Practice includes
1 PDF Document
Dr. Gian Paolo Avanzo offers you this Best Practice for free!
read for free
Add to bookmarks