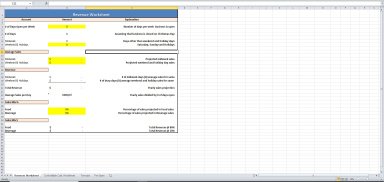 The 4 Financial Spreadsheets Your Restaurant Needs
Collection of 4 Spreadsheets to help you manage your restaurant's financial projections.

by Tiffany Regaudie
Leading Marketing & Comms @BlueDot
Follow
Description
Well thought out, structured, and balanced financial spreadsheets will massively help with the health of your restaurant business. It's important to know not only the current state of your business, but also what your finances will look like in the future. If only looking at the present day, you are not getting insight into the whole story. As a restaurant owner or manager, it's vital that you're consistently updating your financial projections so that you're able to:

Get on top of things early and take measures if you're experiencing low profits

Get an idea of how to plan for investments in the future

Set your business revenue targets that are realistic

Change things for max efficiency before you encounter trouble

Your financial projections- NOT your profit and loss statement- look into the future of your business to help you estimate how much revenue you'll earn and how much you're going to spend on operations.

Whether you're new to the industry or have plenty of experience, you'll want to ensure that you are projecting your expenses and revenue properly. These 4 Financial Spreadsheets (including formulas) that work together will help you to do so!

Revenue spreadsheet template

Controllable costs spreadsheet template

Financial forecast spreadsheet template

Startup costs spreadsheet template

These 4 spreadsheets work in conjunction with eachother to build a financial forecast spreadsheet that gives you complete visibility into how you should expect your business to perform. Here's how you use each sheet to ensure that you get the most accurate projections possible for your restaurant.

1. REVENUE SPREADSHEET TEMPLATE

This spreadsheet will show you
1. Total expected revenue
2. The revenue split between drinks and food

Step 1: Input the amount of days throughout the week you're open.

Step 2: Beneath 'weekends and holidays,' input the holiday and weekend days that you're open

Step 3: Input your average sales for a day midweek

Step 4: The spreadsheet will automatically multiply by 2 your midweek sales number to work out the holiday and weekend sales number. Feel free to change this number based on your own holiday and weekend sales.

Step 5: Input the % of sales that is attributed to food and drink.

2. CONTROLLABLE COSTS SPREADSHEET TEMPLATE

The revenue number calculated in your first worksheet will be transferred over to this worksheet; the controllable costs worksheet. This worksheet can also be referred to as your "prime costs." It shows you:
1. How much you spend on food and drink
2. How much you spend on staff
3. The operational profit margin of your restaurant

Step 1: Work out the Cost of Goods Sold- this should work out a % figure for your food and drink. (Generally, 24-40% is a good ratio for food cost, whilst 20-35% is a good ratio for drink cost.)

Step 2: Input the food cost % and your drink cost %

Step 3: Tally up your costs of labor separately for your front of house, kitchen, and management. You should be able to work out a % of labor costs based on your sales.

Step 4: Input your percentages for labor for your front of house and your kitchen staff.

Step 5: Input the amount you usually spend on management staff in dollars.

3. FINANCIAL FORECAST SPREADSHEET TEMPLATE

Your gross profit, your total revenue, and your operating profit % will be carried over from the first 2 spreadsheets. This financial forecast spreadsheet template will show you:
1. How much you spend on expenses that are "controllable," for example, marketing
2. How much you spend on expenses that are "non-controllable," for expenses utilities and rent
3. How much you're left with that you can call profit after these expenses are deducted

Step 1: Work out % for how much you're spending on promotion and advertising, restaurant and kitchen supplies, and credit card fees based on your revenue currently.

Step 2: Input all % where has been indicated.

Step 3: Input amounts for all the other expenses that have been indicated on the sheet.

The 2 lines at the bottom will be your restaurant's total income amount and your profit margin.

4. STARTUP COSTS SPREADSHEET TEMPLATE

This is a bonus spreadsheet. If you're just starting and you're pre-opening stage, this additional spreadsheet has been created to help you keep an eye on your costs. Starting up a restaurant is a huge undertaking, so you'll want to be conscious of your costs from the get go to ensure that you're spending your startup capital correctly.

While this may not be the most fun part of opening a restaurant, up-to-date financial projections will make so much difference when it comes to making big decisions about your business. Figure out your numbers in advance to avoid emergency money situations as much as you can.

*Originally shared on restaurantsuccess.touchbistro.com*
This Best Practice includes
4 Financial Projection Spreadsheet Templates in Excel
Tiffany Regaudie offers you this Best Practice for free!
download for free
Add to bookmarks