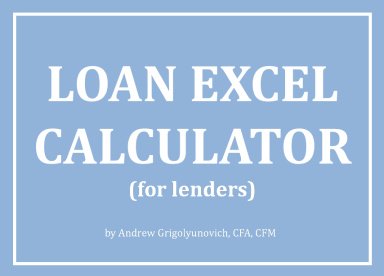 Loan Excel Calculator (for lenders)
This is a loan calculator for those lending money

by Andrew Grigolyunovich, CFA, CFM, FMVA
Founder & CEO at The Financial Modeling World Cup
Follow 173
Description
This simple Loan calculator is an efficient, one-page tool for managing loans. This template helps to calculate the interest that should be received from a borrower and allows you to see the total remaining loan balance due on a given day. This template makes the fundamental calculations for loans of up to a maximum of 1 year.

To use the model, input the loan sum, start date and interested rate as well as received payments. The calculator will deduce the amount of accrued interest on a loan, as well as total the remaining loan amount.

If you wish to see how this loan calculator template looks in Microsoft Excel you can download a demo version. The demo version is the same as the real template; however, you will not be able to change anything in this version.
If you need customization of this template, for example for a longer time period, please feel free to contact us to purchase some customization hours.

If you have any questions, or queries, surrounding this tool, you're able to either start a discussion below or contact us directly via private message via our Eloquens author account! See our channel for additional templates and resources like this one, including a loan calculator for borrowers.

Enjoyed this tool? Show your appreciation by leaving a review and a rating.
This Best Practice includes
1 Loan Calculator excel sheet
Acquire business license for $9.00
Add to cart
Add to bookmarks