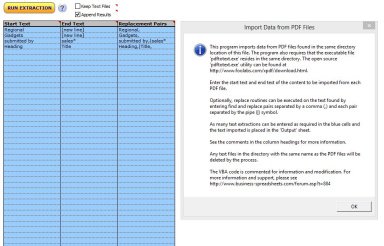 Batch PDF Data Extraction
Extract text and data from multiple PDF files into structured tabular format based on start and end pattern matching.
Business Spreadsheets offers you this Best Practice for free!
download for free
Add to bookmarks
Further information
Extract multiple data streams from similarly structured PDF files into a structured table
Many PDF files require the same data to be extracted for subsequent use and analysis
Scanned PDF files or PDF files that are not able to be converted to plain text.