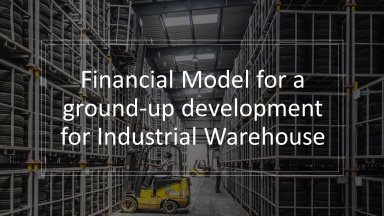 Real Estate - Financial Model for an Industrial Warehouse Development Project
Case study PDF and Excel File for the Financial Model.
Acquire business license for $10.00
Add to cart
Add to bookmarks
Further information
Case study file is intended to provide the instructions which have been intuitively modeled out in the accompanying excel file. The financial model is built in most dynamic manner so that any change in the inputs will carry out the necessary changes in calculations and the Model summary without frequent changes required to be made in the formulas.
This template is suitable for professionals looking for application of best practice concepts as covered in the Case study file in CRE - Warehouse development project.
This template is not useful for those who are completely oblivious to the basic concepts of finance/ basics of excel/ basics of real estate.