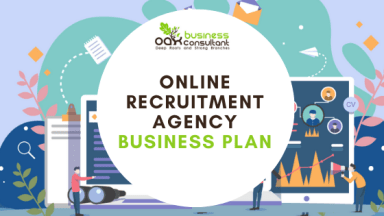 Online Recruitment Agency Business Plan Template
Online Recruitment Agency Business Plan Template helps you in creating your customized template; include Market Analysis

by Oak Business Consultant
Our mission is to be the industrial leader and pioneer in our business domain
Follow 11
Description
An Online Recruitment Agency business plan for a startup needs to be super sophisticated and comprehensive. Therefore, Oak Business Consultant made a dynamic business plan specific for the Online Recruitment Agency niche. Since you plan to start your online recruitment agency, what you do need is a well thought through plan to build solid foundations for growth; it can mitigate as much risk as possible and allow you once you go live to concentrate on the exciting bit, rather than working things out as going along.

This online recruitment agency business plan will make the real part of generating money so much easier with fewer inputs and allow you to enjoy being the boss of your online recruitment agency.

Why you need this Online Recruitment Agency Business Plan?

Establishing a Business Plan would be essential to start your online recruiting agency, and if you wish to plan out your business decisions effectively or seek outside funds and investments from banks and potential investors. The entrepreneur will receive all the financial and market data in this business plan, required by bankers and investors.

Whatever size and stage of development of your agency, with basic planning and analyzing skills and little planning experience, the user will quickly get a complete and reliable snapshot of future scenarios. If you're unsure about writing a business plan specific for the online recruitment agency, then stay put.

Here, you will find all the essential elements you need to figure out how to do so for your online recruitment agency startup business idea, which contains all the necessary information that helps you out to gear your business idea to the next level:

- The key stakeholders of the project,
- Company Vision, Mission, and Objectives
- Marketing Strategies and Objectives
- Source of Funds and Utilization of Funds
- A description of duties performed by specified personnel, and
- The level of authority and responsibility associated with each stake-holder.
- Involved Market Risk and impact on those risks on profitability.

Similar Business - LinkedIn, Indeed, Glassdoor

Contents of the Recruitment Agency Business Plan

Executive Summary

The executive summary of the Online Recruitment Agency business plan is designed to captivate the reader's attention and briefly explain your business idea, the gaps and issues your business are solving, the target market audience, and key financial information. The readability of your rest busienss plan sections is highly dependant on this summary; if the summary lacks specific information or does not capture the reader's attention so probably the rest of the plan not to be considered. This section is dynamic, so the user only requires to input the business's basic operation details, such as your target market audience, business operations nature, distribution channel, etc.

Company's Details

Right after the Executive summary comes a detailed description of the company. This includes the selling features and perception of your brand to the reader. This section of the business plan outlines your business's fundamental details and vital aspects, such as your operations, your company's location, and what makes your business original. It is a high-level look at what you are as a company and how all the business components fit together profitably.

This section includes some sub-contents, which are as follow:

- Business Name.
- Busienss Description and Background.
- Mission, Vision, and Values.
- Busienss Structure
- Key to Sucess
- The Market's problems your business is going to target.
- Which industry do you target and serve?
- Roles and  Responsibilities of your busienss personnel.
- Product Overview

The product overview section of this business plan will provide the readers or investors with all documented knowledge about the business's products, such as the product price assumption model and key features, etc. Since this plan is specifically made for the Online Recruitment Agency niche, we have included all related basic information about Online Recruitment Agency as background information. The user would only oblige to input their key differentiate functions of the products that stand their product out in the market competition.

Competition Analysis

This Competitive analysis section can help the readers to determine the ins and outs of your niche industry's competition and identify potential opportunities in that your competitors are lacking, and your business can outperform them.

This section will help you and your investors in many different ways, such as:

- It helps you identify your product's unique value proposition and your competitive advantages.
- Enables the reader to identify what your competitor is doing right and how you can adapt those strategies to enter into the market.
- This section also enables your readers about where your competitors are falling short, which determine the areas of opportunities in the industry and test out new, unique marketing strategies they haven't taken advantage of.
- Obtain an overview of what is missing in a competitor's product, and consider how the user might add features to the product to meet those needs.
- Provides a benchmark against which the user can measure their company growth.

Market Analysis

The Market Analysis section of this business plan provides you an estimation of your product's demand and trend in the US market. Marketing analysis is conducted to analyze the potential of growth within the industry. It also shows where your business can fit in and what gaps you can fill with your products. Essentially, it is a quantitative and qualitative assessment of market dynamics. It looks into the size of the market in terms of volume and value. The various customer segments and buying patterns, and the economic environment in terms of barriers to entry and regulations. Since this Business Plan is specially designed for Online Recruitment Agency, it has included all relevant past, present, and estimated future market values that would enable the reader to project future growth.

Marketing Plan

Any Business's growth and profitability depend on the sales of its products, which are proportionally dependent on marketing. The quality of service and advantages only come after someone knows about your company. Therefore, marketing strategy plays a vital role in the success of a business. The investors and all potential stakeholders are keen to read about the company's marketing strategies in this section. The marketing plan section of the Online Recruitment Agency business plan explains the redder about how the business will get customers to buy products or services. The marketing plan includes various sections such as;

- Products and services and unique selling proposition (USP).
- Sales and distribution plan
- Pricing strategy
- Advertising and promotions plan
- Financial Plan

This Online Recruitment Agency Plan is a comprehensive document, and therefore, it also contains a vital financial plan that is used to allocate resources and make financial decisions. Financial projections and statements are crucial information to determine any startup or business viability. The financial section in an Online Recruitment Agency Business plan is divided into three segments. That is the income statement, cash flow projection, and the balance sheet, and a descriptive analysis of these three statements. These three important statements are the bird view of the financial status of the business.

Break-Even Analysis and Utilization of fund charts will give the reader a potential estimate about the company's no profit and no loss situation. In this section, all financial data and statements that all work together to tell the story of your business. It will answer the questions about where and how your revenue will generate and also increase the chances of securing funding from investors or lenders.

Benefits of Online Recruitment Agency Business Plan

Here are some pivotal benefits of this business plan, which are as follow:

To help you in critical decision

This robust business plan can a forcing function—you have only to sit down and think about your recruitment agency's major components before getting started, like marketing strategy, operation plan, and what products you'll sell. An entrepreneur can answer many tough questions before they arise and think deeply about core strategies to understand how those decisions will impact a broader objective plan.

Attract Outside Funding

This business plan will enable your potential investors and banks to clearly understand your passion, also allowing them to acknowledge the flow of money and resources. Communicating clear ideas to investors will persuade them that your business is a great opportunity to get involved; therefore, they will make investments in your business venture to help you to achieve your objectives.

The Bigger Picture

The Online Recruitment Agency Business Plan gives you the right path to connects the dots in your plan, so as an entrepreneur, you will achieve a whole snapshot of your venture. This business plan will help you to prioritize tasks and activities. By looking at the bigger picture of your venture, you can decide which challenges need to tackle first or which task to address later and enables you to allocate your effort, time, and resources strategically.

Complete Information

All updated content is included in the Business Plan with references. The user is just required to include company name, employees, and other office-related information. It is ready to go template with financials.

Enhance Co-ordination

This Business Plan primarily can use within the company as an implementation plan. This may also improve and provide more consistent performance, improved coordination, and consistency among various segments of the company. Moreover, these business plans may help to identify your business strengths and weaknesses. Along with potential problems, and emerging issues. It also set forth performance benchmarks on which expectations will be based. It also clearly delineates goals and objectives to allow for coordination and better communication between all company areas.

Mitigate Risk

The in-depth market research about the Online Recruitment industry will also help you to gain a better perspective. Along with a better understanding of the market or target audience which enables you to mitigate or minimize potential loss. It also allows you to keep up with market trends and analyze a competitive edge by sizing up business opportunities.

We have guided you with clear instructions and examples for each section of the business plan under the product file. We also do offer a customized investor-ready Business plan. If you also require our service to craft your business plan, feel free to contact us at info@oakbusinessconsultant.com or visit the page Investor Related Document and Business plan Service.

How to Use the template

1- Executive Summary

This is the most crucial part of the business plan. It also provides a summary of the business highlights of your business plan and explains to the readers what you want. Regardless of the service, you want to sell online, and you can replace the word with their product.

The user is requested to input information, such as nature and substance, the type of operation, whom you sell, how the product is distributed, and the business' support systems. When preparing this section, the following points could also be noted:

(1) Mission

(2) Attraction

(3) Trade situation

(4) Social relation

2- Business Description

We have included a sample description for your business, so this will suit any Online School business. The points covered in this section also include size, major players, the entry barriers, the markets and customers, the profit margin, the national, economic, and technological trend affecting it, any special regulation relating to it, its long-term outlook, etc.

3- Market Analysis 

The market analysis estimates the opportunity of online education in the U.S. market. We have covered all important sections in the industry and also highlight COVID 19 scenario. So the user can use the updated Market Analysis for any Online Recruitment Business. The analysis also indicates whether the particular market segment is growing or declining.

4- Marketing Strategy

This section is crucial. It gives a good indication of the business' chance to succeed. Since it refers to your adoption of various means or ways to make your products/services known to your targeted customers and arouse their interest in purchasing your products/services. We have formulated 4P's approach, i.e., product/service, pricing, promotion, and place. So the marketing strategy is based on becoming the trendsetter for Recruitment Industry via social media awareness and how the company will run the marketing campaign effectively.

5- Marketing Plan 

The detailed marketing plan is included in the template also focussing on targeted customers and how to reach them. The company strategy is also included on how to maintain existing customers through product improvements. So the user needs to review and edit the description if required.

6- Operational Plan 

This section has included a business's operational and production management, human resources, marketing, and financial management hiring, and also the staff that needs to be allocated. The user will need to input the following points:

- The quality control measures you have made
- Risk Management and internal control systems
- Assessing risks
- what-if scenarios to mitigate these risks.

7- Financial Plan

The full Financial Plan is included in the template, which also includes all three statements with graphs and charts. You only need to fill in the numbers.

For your ease, we have highlighted those words which require changes in the business plan. To save your time, you just have to see highlighted words and replace them accordingly.

8- Other Sections

Information is up to date, the Market Analysis is conducted within a week of publication.
This Best Practice includes
1 Word Document
Acquire business license for $250.00
Add to cart
Add to bookmarks
Further information
Create a customized Business Plan for your company within hours.