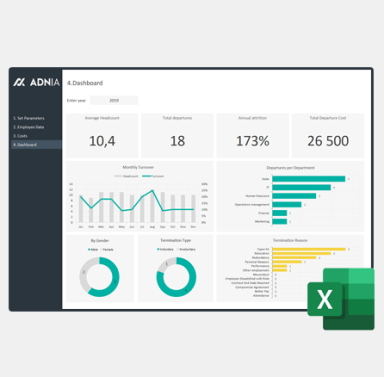 HR Attrition Management Excel Template
The easiest way to track of employee attrition.

by Adnia Solutions
High Quality Excel Spreadsheet Templates and Dashboards
Follow 11
Description
Understand your employee turnover rate and organize your off-boarding information with the HR Attrition Management tool. This Excel spreadsheet template will make year-end and progress reports easier and more effective. Our carefully designed dashboard keeps you up to date and ready to communicate your colleagues. Pinpoint areas of highest turnover by department, month and termination reason and see cost data at the same time.

Key Features

● Beautiful dashboard showcasing 4 visuals: Monthly Turnover, Departures per Department, Termination Reason and Employee
Characteristics
● Easily make professional presentations and reports with our visuals designed for maximum communication
● Your employee data are conveniently organized and archived by year
● Wow your audience with professional quality visuals

Simple and Professional

● Microsoft Excel spreadsheet template
● Side menu for easy navigation between pages
● Spreadsheets ready for printing without Adnia logo
● No monthly fees
● Immediate download
●Secure payment
● Fully unlocked template

What is included?

● One template with sample data
● One template ready to receive your data

Other Information

● Built for Excel 2010 or later
● Licensed for Private Use Only (not for distribution or resale)

The template may NOT be sold, distributed, published to an online gallery, hosted on a website, or placed on any server in a way that makes it available to the general public.
This Best Practice includes
1 template with sample data; 1 template ready to receive your data
Acquire business license for $49.00
Add to cart
Add to bookmarks