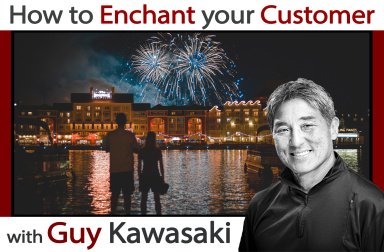 How to Enchant your Customer
10 ways SMEs can charm their customers.
Introduction
I love to do business with small businesses—in-store, online, for myself, for others, for pleasure, for work—it doesn't matter to me. I love to find great products and services made by entrepreneurs who are trying to change the world. And I love to help small business owners because they aren't flying around in corporate jets and lunching with investment bankers. American Express's idea for Small Business Saturday is a marvelous one, and I'd like to help out by them explaining 10 ways that small businesses can enchant their customers.
Step n°1 |

Put likable, competent and passionate people on the front line.

I prefer to interact with employees who smile, know what they're talking about, and love what they sell. However, companies often put the lowest-paid, least-experienced employees behind the counter or at the front desk and hope for the best. This doesn't make sense. Ask yourself this question: Is the first impression of my business a good one? Because if it's a bad one, it may also be the last one.

Step n°2 |

Show me that you trust me.

If you don't trust me, I'm not going to trust you. Look at the small businesses that became huge: Zappos tells me that it trusts me because it pays shipping in both directions. Nordstrom takes my word for it if I say merchandise was defective. Amazon lets me return a Kindle book for seven days—I can read most books in seven days! If you trust me, I'll trust you, and we can build a relationship.

Step n°3 |

Remove barriers to entry.

Make it easy to get started with your product or service. Don't ask people to fill out 10 fields of personal information to open an account. Don't throw up a CAPTCHA system that requires fluency in Sanskrit. Don't require an appointment for a consultation. Instead, create a slippery slope that enables people to start doing business with you quickly.
add_shopping_cartContinue reading for free (70% left)