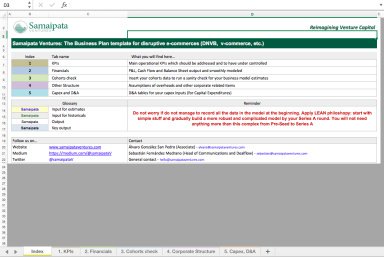 The Early Stage Business Plan template for Disruptive e-Commerces
A How-to-Build a Seed to Series A Business Plan tool alongside an excel template for you to build upon.
Samaipata Ventures offers you this Best Practice for free!
download for free
Add to bookmarks
Further information
Given these profiles, perhaps your startups fits into one or even your projects could evolve into one as such. However, if you are struggling with the necessary analysis and data to both measure and predict the performance of your organisation- that is what our excel business plan template has been made for.

When your startup is in its seed or pre-series A stage, it is key to have an internal control of your KPIs and financial both for yourself and your investors. Specially given that you need to be quick with your operations and it becomes inefficient to manage millions of documents. Our advice is to keep it simple and comprehensive, with awareness and control of your business at all levels.

Why say not to merging KPIs, business model and cohort analysis all in one document? The downloadable excel business plan template below serves as the basis of all data that a dis-commerce firm should begin tracking as to keep a clear picture of all the happenings within the firm. This will enable you to ask yourself important questions such as "is our forecast realistic? is enough being spent on marketing to sustain the expected growth? if not, what strategy should I take?" As well as finding the answers to them.

From an investor's perspective, we don't expect pre-seed or seed startups to complete the template from the very first day of its use. The idea of having it and running it by the time of your series A, will ensure stronger control of your business additionally to great saved amounts of work.

This is how the business plan template is organized:

The template is organized as follows:
1. KPI tab to keep track of activity performance: sales, cost of goods sold (COGS), logistics, delivery, etc.
2. Financials: profit and losses, cash flow and a balance sheet.
3. Supporting data: corporate level assumptions, funding assumptions and a cohort analysis to run a reality check on your assumptions. Don't be too concerned to have all this information in the very beginning- the idea is to gradually develop your database, manage it and control it until you're ready for your series A round.

What can you take away from this model?

• The balance sheet is sacred: Once you deal with stocks, more complexity build up below EBITDA. Although the model takes into account all stages, it does emphasise numbers below: stock level, stock rotation, payment days, financial debt, etc. Much attention should be paid to these numbers.

• Run reality checks on your forecasts: Do make sure your forecasts (year-on-year, YoY, to avoid seasonality) are realistic. Test them out against other numbers to ensure that with your current user recurrence (cohorts), total marketing expenditure and customer acquisition cost (CAC) are realistic. If they are not, then they may be adjusted to your forecast, add it in as a goal and invest your efforts in order to retain or gain new users. Whatever the case, it may come as a surprise how useful these reality checks can be- you will better understand your CAC and cohorts, in order to estimate your potential demand even more precisely!

• Bring all your numbers together —keep it comprehensive and all in one: one of the key principles of this excel business plan template is that it aims to bring three sets of numbers together: operational KPIs, financial statements and business data all in to one, put simply.
When should the template be used? For dis-commerces with debt, stocks, etc.. it is important to make monthly closings- where in our opinion, should be the first 10 days of each month. This is essentially the only way to take decisions in a safe manner, such that for example, important decisions aren't taken in times that are practically irreversible. We've seen this too much along the way, and trust us, it really makes you regret the lack of time spent on internal controlling and reporting.

The template is most useful for whom?

=> Discommerces, Such as DNVB and v-commerce brands that have already experienced pre-seed/seed round and expect to top a seed/series A. Generally, models such as discommerce buy and sell something as part of a transaction, that happens to be registered in the balance sheet. Ultimately, the aim should be to have the model implemented after your seed round and have it cleared up by the time you're ready for your series A of funding.

What can the template be used for?

=> This template is especially important for internal reporting, additionally to external reporting. However, it is key to master internal reporting, so it becomes rather more efficient and useful for decision-making. Certainly, external reporting will still need to be done with your board though to avoid the duplication of effort – do make sure to find a model that fits both uses so you are able to alternative between either of them.