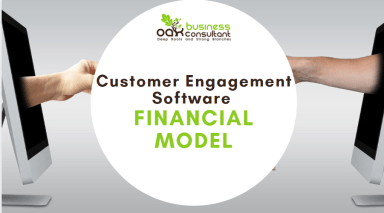 Customer Engagement Software - Fianancial Model
The Customer Engagement Software – Financial Model is tailored for Customer Engagement Software Business. All assumption

by Sadaf Abbas
CEO- Oak Business Consultant
Follow 33

with Oak Business Consultant
Our mission is to be the industrial leader and pioneer in our business domain
Follow
Description
The Customer Engagement Software – Financial Model is tailored for Customer Engagement Software Business. All assumptions and calculations, as well as key operational and financial metrics, are specially designed and made for start-ups

Product Description:

Customer Engagement software business is growing at a rapid pace. If you are thinking of start-up your own business then our Customer Engagement Software – Financial Model will best suit your business. We have designed the right model for your business start-up needs. We have considered all factors like choosing no. of software, growth rate, revenue analysis, business ratios, diagnostic tools, expense analysis, research & development, and other financial factors.

The model will help you:
- Develop Sales Strategy
- Diagnose Issues
- Forecast Cashflows for 3 years
- Calculate Start-Up Cost
- Utilization of Funds
- Control over Business
- Set Goals
- Financial and Business Planning
- Investor Deck

Financial Model Highlights
- Dynamic
- Revenue Model – Software Selling + Website Ads
- Cost Model - Editable Inputs
- Revenue Assumptions
- Income Statement
- Cashflow Analysis
- Balance Sheet
- Proforma Income Statement and Cashflows
- Diagnostic Tools
- Business Ratios
- Depreciation
- Dashboard

Reasons to use this model

a. The model can convince investors
The presentation of models is its key features it is easy to use and contains a graphical representation of your business. We have used simple logic and prediction which can be understood by anyone. Graphs, Charts and diagnostic tools sheet is also added which tells the investor about the current status of a company in a single line.

b. Ease of Use

Many models on the internet are available but most are complex and a user with no finance knowledge will find it difficult to use. The Template we built is highly dynamic and user friendly. You do not need to read long boring manual or instructions to use the template.

c. Great Value for Money

The model contains every statement, analysis, and charts and is complete. Its best suits for start-ups and SMEs. Many models available contains a few sections or sheets of financial modeling. For example – A model doesn't contain a balance sheet or business ratios or there aren't any graphs. We have included everything from inputs to Balance Sheet to Diagnostic tools to Business rations making the model as great value for money.
This Best Practice includes
The Excel Model
Acquire business license for $350.00
Add to cart
Add to bookmarks