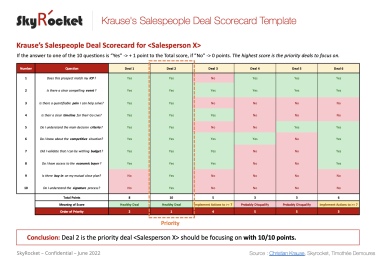 Krause's Salespeople Deal Scorecard Template
A simple editable Deal Scorecard Template in PowerPoint for salespeople to use to prioritize focus on the most promising deals to aim at closing.
Description
In May 2022, Account Executive, Venture Capital, Christian Krause published a LinkedIn post outlining his own deal scorecard, with the objectif to increase deal health, deal closing capacity and forecast quality. See original post here: https://www.linkedin.com/feed/update/urn:li:activity:6930486100431912961?

He argues that by answering "Yes" or "No" to a series of 10 questions (that you can change according to your own context), you score +1 if "Yes" and 0 if "No".

1. Does this prospect match my ICP? 👨🏻‍🦰
2. Is there a clear compelling event? 💥
3. Is there a quantifiable pain I can help solve? 😫
4. Is their a clear timeline for their Go Live?  📅
5. Do I understand the main decision criteria? ✅ 
6. Do I know about the competitive situation? 🤜🤛
7. Did I validate that I can be withing budget? 💰
8. Do I have access to the economic buyer? 👑
9. Is there buy-in on my mutual close plan?  👍
10. Do I understand the signature process? ✍️

- ✅ All deals with a 7 and above are healthy deals and should be aimed at closing. 
- 🤔 Between 5 and 7, the salesperson should aim at putting actions to help it reach a 7 and above.
- ❌ 4 and below means your confidence level is too low to put an effort at trying to close the deal. These deals should be disqualified and abandonned.

Given the pertinence of his methodology, I decided to create a universal editable template that any salesperson can use to make his own personalised deal scorecard on Excel, and then transpose the results onto an actionnable PowerPoint.

This is an excellent 5 to 10 minutes analysis tool, enabling to quickly refocus energy on one or several key deal priorities.

For a salesperson, it can also be shared to superiors/ managers to demonstrate self-set objectives.

The Best Practice is:
- an editable Microsoft PowerPoint Template Slide + Associated Excel Model
- with an online & offline 15 step-by-step methodology, with pedagogical illustrations for each step.

Should you have any questions about this top tier Salespeople Deal Scorecard framework template, you're welcome to reach out to me via Private Message.


Good Luck!
- Tim

More resources on deal closing:
- 7 Tips for Closing the Deal (Program on Negotiation Harvard Law School): https://www.pon.harvard.edu/daily/dealmaking-daily/7-tips-for-closing-the-deal-in-negotiations/
- 10 Sales Strategies to close deals by Yara Simon from Business News Daily: https://www.businessnewsdaily.com/16076-close-the-deal.html
- 30 Deal techniques by Steli Efti of Close.com : https://blog.close.com/close-sale/
This Best Practice includes
1 PowerPoint Template Model + 1 Associated Excel Model + 1 Offline/Online 12 Step-by-Step Methodology
Tim Demoures offers you this Best Practice for free!
download for free
Add to bookmarks