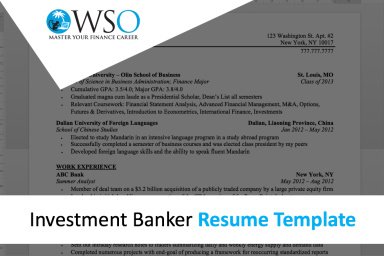 Investment Banker Resume Template
This is Wall Street Oasis' template for an Investment Banking resume for undergraduate students.

by Wall Street Oasis
Most entertaining and useful online finance community in the world.
Follow 149
Description
This is a sample resume for undergraduates looking for a cleanly formatted CV template for Investment Banking to give them an even bigger edge in the recruitment process. Simply fill in the blanks, get it proofread, and you'll have a quality resume.

(Note this template is for students - we have a resume for experienced Investment Banking professions here: https://www.eloquens.com/tool/nJ2mIzV2/leadership-hr-human-resources-tips-and-methods/cv-resume-templates/private-equity-pe-resume-cv-template)

What to include: (make sure not to mess up in terms of grammar/format here!)
1. Professional Experience: Experience in roles where you've worked under-paid, with professional discipline and had to get through an interview process to get there. Having successfully passed through interview processes for previous roles is important, as interviewing you is what employers plan to do.
2. Case study competitions: Optional. This is not professional experience. Including these looks like you don't have enough professional experience to fill the experience area. Our advice: don't do it.
3. Volunteer Positions: Not professional – put it in extracurricular.
4. Strong Names: Employers like to see names in the Private Equite/banking/HR world that they recognize. It tells them that you could pass through their interview process and you've done an internship somewhere that has reinforced your academic finance skills.
5. Keywords that Stand Out: Reviewers tend to skim read the bullet points. Key words that catch
their eye: (key words that reflect a particular teams' focus might vary for another team)
• comparables analysis
• competition or industry analysis/research
• due diligence
• modeling
• DCF valuation
• presented
• leveraged buy out
• distressed debt

Here is some helpful advice about formatting and filling your resume:
• Keep bullet points at a max of 2 lines
• Be consistent in the tense you use (past tense throughout or past tense to describe past experience & present tense to describe what you're currently doing)
• Focus on formatting – a poorly formatted CV will be thrown away (luckily, we've done most of it for you)
• The "Additional Information" section: Delete what doesn't apply and tailor this area to highlight your strengths beyond finance. Think of skills that will be impressive to the resume reviewer

If you have any questions, feel free to start a discussion below or send a private message via the Wall Street Oasis Eloquens channel.
This Best Practice includes
1 Investment Banking resume template
Wall Street Oasis offers you this Best Practice for free!
download for free
Add to bookmarks