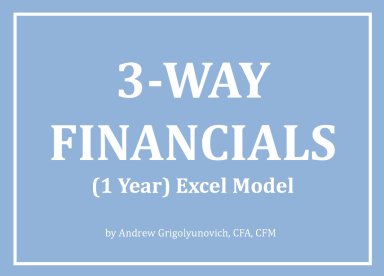 3-Way Financials (1 year) Excel Model
This is a professional 3-way financial model for a 1 year period.

by Andrew Grigolyunovich, CFA, CFM, FMVA
Founder & CEO at The Financial Modeling World Cup
Follow 173
Description
This is a detailed, yet clear to use 3-way financial model to assess how a company will perform under different assumptions, and how a range of decisions will affect the bottom line over a one year period.

This is presented in an MS Excel template. and available to download and use instantly.

Within this spreadsheet are 4 worksheets:

Assumptions: This is the worksheet that contains the main assumptions for your company. Data that you enter in this worksheet automatically impacts all the other worksheets

Profit and Loss Statement (P&L): This is for creating and calculating your profit and loss statement. This is the final worksheet that is automatically made up of information contained in other worksheets.

Balance Sheet: This is the pro-forma balance sheet for your company. The section needed for data input include cash, share capital, retained earnings from previous years, current year's net income, and other positions.

Cash Flow: This is the Cash Flow budget for your company, comprising of cash and cash equivalents at beginning of the period, cash provided by operations, cash used for investment activities, cash provided by financing activities, cash and cash equivalents at the end of the period.

If you have any queries or questions about the tool, don't hesitate to start a discussion below, or private message directly via my Eloquens author channel. Show your appreciation by leaving a rating and review below!
This Best Practice includes
1 Excel Model
Acquire business license for $5.00
Add to cart
Add to bookmarks