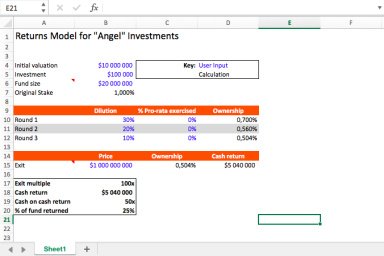 Returns Excel Model for Angel Investors
Excel model and explanation to describe the importance of sticking to pro-rata agreements.

by Aaron Harris
Partner at Y Combinator
Follow 12
Description
Recently, companies undertaking fundraising activities have been refusing to honor pro-rata agreements made with small investors. It seems that this has been happening because they've found newer, bigger investors that ask for a percentage in a round and then tell the founders that this percentage can be obtained via the founder stake or by restricting earlier investors from selling or redeeming their shares.

This really shouldn't happen for a number of reasons.

By doing this, the founders are disrespecting a legal agreement. By breaking these deals, the founders are going back on their word and therefore destroying trust. The sad thing is is that there's hardly ever an after-effects of this because smaller investors are not likely to cause a fuss. They don't want to make a bad name for themselves or annoy the bigger investors. So really, they're in an awkward position.

This make things really difficult for early investors, as when they have negotiated for pro-rata, they money they have invested now buys equity and provides the opportunity of maintaining the equity at a later stage. This is really important for early-stage investors- particularly those who's investments have come from a fund. Models and expectations are built knowing that the aggregate effect of dilution is material. If investors knew that there was a possibility of them being screwed over, they wouldn't have made the deal. This model will show the importance of pro-data rights for early stage investors.

The investors that have come on board late have actually been really smart. Obtaining the stake from earlier investors as opposed to the founders has guaranteed that the founders retain risk, or will then have the opportunity to sell secondary. They can also make it less possible for the early investors to have any impact on the future of the company by decreasing the power of their combined vote.

Lastly, doing this may speed up the decline of 'super-angel' funds by predicting the amount they'll receive from their returns. For those left, the less competition the better.

Due to the amount of competition around fundraising currently, it's unlikely that this trend is going to come to an end in the near future. In order for it to stop, the founders have to take action. It's important that if you ever find yourself in this situation to fight for the original agreements made. Reach out if you'd like to chat about how you could do this.

This Best Practice includes
1 Excel Returns Model
Aaron Harris offers you this Best Practice for free!
download for free
Add to bookmarks