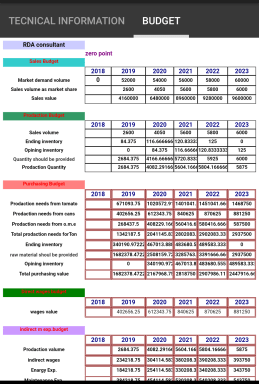 Yearly Flexible Budget
Budget template in Microsoft Excel.

by Rami Abbas
Financial Analyst with 13 years experience. Specialized in feasibility studies and financial plans.
Follow
Description
How financial analyst use technical and marketing information to forecast the budget.

This budget aims to coordinate between the goals and capabilities in the future in light of the goals and capabilities of the present and on the basis of the experiences and experiences gained from the past. Thus, this budget is used as a planning tool only.

sales budget:
Sales budget is considered one of the most important budgets because any mistake in it will affect the accuracy of other budgets, for example, inflating sales by 10% will increase production as well as increase the number of production units. This budget is considered one of the most difficult budgets because the management has no authority or control over the market and customers.

Productions budget:
Preparing the production budget is the second step after preparing the sales budget. It depends on it closely, and the quantity expected to be produced is determined using the following formula :
Production units = sales + ending inventory - beginning inventory.
According to this equation, we find that the goal of production is to meet the need of sales and the formation of the stock of the stock of the last inventory period, but you do not need all this quantity because of the existence of the stock of the goods at the beginning of the period.

Purchasing budget

Direct wedges budget

Marketing and sales budget

Over head budget

Cash Budget
This budget aims to determine the cash balance, and this gives the management information about the cash situation, which enables it to invest the money that is surplus to need and to procure the money well before its need.

This Best Practice includes
Excel Template
Rami Abbas offers you this Best Practice for free!
download for free
Add to bookmarks