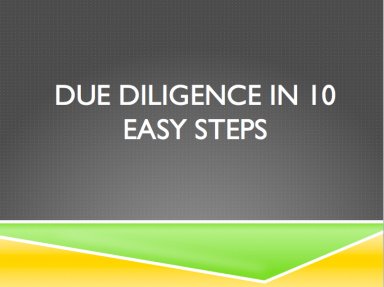 How to Due Diligence in 10 Easy Steps
Learn how do to a due diligence in 10 easy steps.
Introduction
Due diligence is defined as an investigation of a potential investment or product to confirm all facts, such as reviewing all financial records, plus anything else deemed material. For individual investors, doing due diligence on a security is voluntary, but recommended.


Imagine then, sitting down at your computer with a fresh cocktail napkin or sticky note that has a single ticker scribbled across it – it's a ticker you've never researched before, but something (or someone) has piqued your interest.


This article will discuss ten steps you should take on your first tour through a new stock. Performing this due diligence will allow you to gain essential information and vet out a possible new investment.


The steps are organized so that each new piece of information will build upon what has been previously learned. In the end, following these steps will give you a balanced view of the pros and cons of your investment idea, and allow you to make a rational, logical decision.
Step n°1 |

The Capitalization of the Company

It really helps to form a mental picture or diagram of a newly researched company and the first step is to determine just how big the company is. The market capitalization says a lot about how volatile the stock is likely to be, how broad the ownership might be and the potential size of the company's end markets. For example, large-cap and mega-cap companies tend to have more stable revenue streams and less volatility. Mid-cap and small-cap companies, meanwhile, may only serve single areas of the market, and may have more fluctuations in their stock price and earnings.


No judgments should be made at this step; we are just accumulating information that will set the stage for everything to come. When you start to examine revenue and profit figures, the market cap will give you some perspective.


You should also confirm one other vital fact on this first check: what stock exchange do the shares trade on? Are they based in the United States (such as New York Stock Exchange, Nasdaq, or over the counter)? Or, are they American depositary receipts (ADRs) with another listing on a foreign exchange? ADRs will typically have the letters "ADR" written somewhere in the reported title of the share listing. This information along with market cap should help answer basic questions like whether you can own the shares in your current investment accounts.

Step n°2 |

Revenue, Profit and Margin Trends

When beginning to look at the numbers, it may be best to start with the revenue, profit and margin trends.


Look up the revenue and net income trends for the past two years at a financial news site or app like Yahoo! Finance or CNBC. These sources should have links to quarterly (for the past 12 months) and annual reports (past three years). A quick calculator check could be done to confirm the price-to-sales (P/S) ratio and the price-to-earnings (P/E) ratio. Look at the recent trends in both sets of figures, noting whether growth is choppy or consistent, or if there any major swings (such as more than 50% in one year) in either direction.


Margins should also be reviewed to see if they are generally rising, falling, or remaining the same. This information will come into play more during the next step.

Step n°3 |

Competitors and Industries

Now that you have a feel for how big the company is and how much money it earns, it's time to size up the industries it operates in and who it competes with. Compare the margins of two or three competitors. Every company is partially defined by who it competes with. Looking at the major competitors in each line of business (if there is more than one) may help you nail down just how big the end markets for products are.


Information about competitors can be found in company profiles on most major research sites, usually along with their ticker or direct comparisons that let you review a list with certain metrics filled in for both the company you're researching and its competitors. If you're still uncertain of how the company's business model works, you should look to fill in any gaps here before moving further along. Sometimes just reading about some of the competitors may help to understand what your target company actually does.
add_shopping_cartContinue reading for free (70% left)