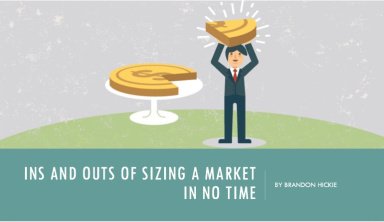 The Ins and Outs of Sizing a Market in No Time
An in depth introduction to market sizing, how to do it and how it can be useful.

by Brandon Hickie
Marketing + Growth Strategy @ LinkedIn
Follow
Description
In this 26 page document, Brandon Hickie gives an in depth analysis of market sizing, how you can do it and how it can be extremely useful for your business.

This tool will give you all the information necessary for a full understanding of market sizing and its science. The document is broken down into two clear sections, one offering a detailed overview of the science behind market sizing while the other suggests many different approaches to market sizing.

In the first section, you will learn how to think about a market opportunity and ultimately how market sizing works. This section will give yo the tools to establish your total market potential, total addressable market, segmented addressable market and expected share of addressable market. Therefore, this document will give you all the tools required to conduct an in depth market sizing report. Furthermore, it will show you 3 ways to view an opportunity with the opportunity size triangulation and also give an overview of the differences between top-down and bottoms-up approaches to market sizing. This section is full of detailed charts and diagrams, as well as concrete real world examples that will help you to really get an understanding of how market sizing works.

The second section is incredibly useful and practical, showing you 8 different approaches that you can take to market sizing. This section shows detailed examples of different approaches to market sizing. These are:

- Quick Top-Down Market Sizing
- Analyst Spend Statistic Market Sizing
- Census-Based Market Sizing
- LinkedIn-Based Market Sizing
- Directory-based Market Sizing
- Power Curve Market Sizing
- Resource Constraint Angle on Sizing
- Bureau of Labor Statistics Market Sizing


As such, this tool will give you an incredibly detailed overview of different approaches. You will be able to analyse each method and ultimately decide which approach or approaches to market sizing would be suitable for your business context. Brandon gives useful examples of all these methods, which demonstrate how each method can be applied.

This tool is essential for any business person looking to calculate their market size potential.
This Best Practice includes
1 PDF Document
Brandon Hickie offers you this Best Practice for free!
read for free
Add to bookmarks