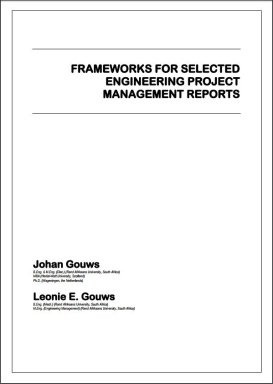 Frameworks for Selected Engineering Project Management Reports
E-Book sample providing frameworks for a range of engineering project management reports.

by Dr. Johan Gouws
- - - - - - - - - -
Follow
Description
It is essential for businesses and projects to have reports that are well-structured so that they can accurately communicate with regards to goals, objectives, designs, requirements, recording progress, measurement etc. It can be true when people say that engineers don't actually make the products, but that they write the reports that describe the products so that they can be made by the technical team. However its a problem in the engineering world that often the reports are not properly conveying the intended message.

To reduce this problem- especially for managers and engineers at early stages of their careers- this book provides suggested frameworks for a range of commonly-used management reports for engineering projects.

You should use this book as a reference guide to source ideas about content and structure of engineering project management reports. It doesn't provide blueprints for every single report that a manager may have to write in his/her career, but it does provide guidelines that you can tailor and adapt to suit your specific needs.

The philosophy used for this book is: contents follow structure. That is to say, you should first think about and decide upon the structure of the report, then fill in the contents systematically. It's often the case that when content is randomly gathered up and then put together, irrelevant ideas end up being included.

Report writers are generally reluctant to delete ideas when they look good and sound nice, especially after they've taken great efforts to find them. However when you define the structure of a report first, information gathering becomes focused, and then unnecessary material can be filtered out or even, is not collected in the first place. The book doesn't say that once you've chosen a structure it's set in stone, but rather by having a base structure, rational and systematic changes can be made to increase the chances of producing an effective report. Not many people would build a house and then decide to draw up the plan, however engineers seem to make this mistake all the time when preparing reports.

Want to read more? Buy the full e-book here: https://bin95.com/ebooks/Software-Engineering-Project-Management.htm

*Originally shared on industrial-ebooks.com*
This Best Practice includes
1 Downloadable E-Book Sample
Dr. Johan Gouws offers you this Best Practice for free!
read for free
Add to bookmarks