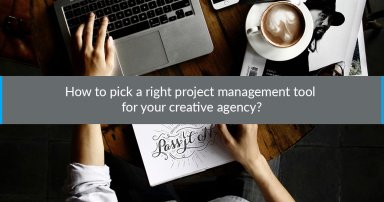 How to pick a right project management tool for your creative agency?
A best practice focusing on finding the right project management tool for your creative agency.
Introduction
In private as well as in professional life, the new technologies are widely spread these days and the number of apps and software solutions to simplify your work life continues to increase every day📈📲.


In the environment where competition is tough, a creative agency should be able to be distinct so as to keep attracting new clients👨🏻‍💼👩🏽‍💼. Competent co-workers🤝, brilliant ideas💡, impeccable service and tools that perform well are all assets that will allow your agency stand out from the competitors and to thrive📲✅.


Necessary to achieve success, project management software enables you to boost your productivity📈, to effectively manage your day to day tasks👨🏽‍💻🚩, to meet the deadlines⏰, to share the documents, to communicate easily with your colleagues and to efficiently track the progress of your projects🗣.


How to pick a project management solution adapted to your creative agency?🧐 Firstly, take into the account different criteria such as the size of you agency, your needs, your work methods or even the type of projects that you manage. Next, the software should offer functions impossible to be overlooked that facilitate your work and prioritise collaboration🤝👥.


Here is some advice on how to make a right choice⬇️.
Step n°1 |

Data sovereignty

Since the adoption of the General Data Protection Regulation (GDPR) in May 2018, security and confidentiality of data have been in heart of all preoccupations❤️.


To secure your projects' data, which is also your clients' data, opt for a software that has high standards regarding this matter, like our project management platform Wimi📲👍🏼. Data sovereignty (it means their accommodation at the French territory), allocation in a private cloud or on-premise one, secure authentication and even data coding are all aspects that you should take under consideration while making your decision👀💬.


Your clients will be reassured if they see that you take the security and confidentiality of their data seriously🔐.

Step n°2 |

Invite your external collaborates for free

An advantage of a project management software is to prioritise communication and collaboration between all people involved in the project🗣, be it your employees or external contributors👥.


In fact, your creative agency collaborates with a significant number of  people on top of your clients:  your suppliers, your service providers, your partners and your journalists✍🏼👨🏽‍⚕️. This is the reason why it is necessary to choose a solution that allows you to invite all participating parties for free and that allows them to take advantage of the same functions as registered users👋🏼🤝.


Of course, you can manage the access rights of every person directly as well as define the workspaces that they can access🚫✅.
add_shopping_cartContinue reading for free (70% left)