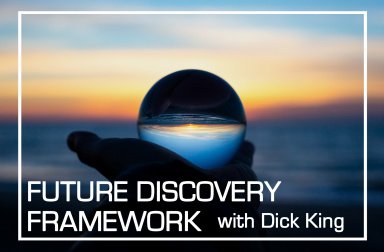 Future Discovery Framework
Overview for using 'future discovery' techniques to solicit multiple "possible" futures - key to re-imagine strategy.
Dick King offers you this Best Practice for free!
download for free
Add to bookmarks
Further information
To establish Future Discovery and related Future speculation methodologies as a core process and attribute for executives/planners/strategists involved in the strategy review process. Striving to establish creative, innovative and productive visions of the future is imperative under the threat of disruption, complexity and the 4IR (4th Industrial Revolution) agenda. This is about getting beyond the near horizons of products and services and integrated versions of the 'physical amplification' world on linear growth projections and striving for Horizon 3 and "preferred sustainable" strategies that drive growth from all stakeholder perspectives (broad base of diverse agendas) with exponential potential.
Businesses experiencing or recognizing growth constraints and business being disrupted. Strategy planners and executive wondering what they should be doing today to make a new and sustainable future emerge. Executive and consultants wanting more control under conditions of an uncertain future that is emerging unequally but rapidly. Strategists and executives not being aware of or having access to a discipline or methodology (roadmap) that will result in a 'productive speculation' process that funnels from 'possible' futures, through 'plausible' and 'probable' futures to 'preferred' futures for your business within your context.