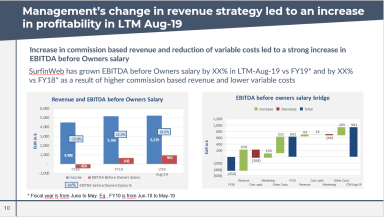 Investment Pitch Deck for Social Media Management company
This is a template Pitch Deck giving an overview of a business and its financials.
Pierre-Alexandre HEURTEBIZE offers you this Best Practice for free!
download for free
Add to bookmarks
Further information
Offer an Pitch Deck template to present an acquisition opportunity or to be used for capital raise
If I believe that this Pitch Deck contains the essential information a buyer would need in a IM to form a first opinion on whether or not to continue the discussion I would say that this template is rather suitable for small cap companies which are not over complex and will not require a 100 page IM.
If you intend to create an IM with exhaustive information about the company. I think this template would give a good overview of a Target but pieces of information will still be missing (for example Monthly NWC analysis, Development Strategy, SWOT analysis, Competitors analysis etc)