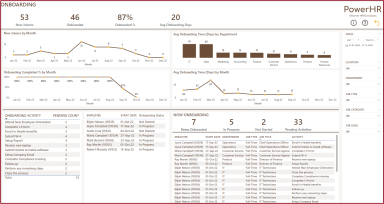 Employee Onboarding Tracker – Power BI
Download this Onboarding Tracker in Power BI for an effective onboarding process of all your new employees.

by Indzara
Simple & Effective Spreadsheet Tools & Processes
Follow 11
Description
Effective employee onboarding is essential for ensuring new employees' seamlessly transition into your organization. To facilitate this crucial process, we've developed a simple but efficient Onboarding Tracker in Power BI that empowers you to monitor and optimize onboarding procedures.


Below, we'll explore the key features of this tracker, and provide an in-depth look at the metrics and visuals it offers.


With simple data inputs, get an amazing dashboard with metrics and reports to aid you in a smooth onboarding process.



Key Features of the Onboarding Tracker Power BI Template
The following are the highlights of the template.


1. Simple data entry process
Single excel file for all employee data entries
Can connect with Excel files stored locally or in a SharePoint folder
One time connection with Power BI file
2. Customize settings to meet your business needs
Customizable employee and job attributes to suit your organizational needs.
3. Practical Features
Simple Dashboard with crucial metrics and reports.
Track onboarding status of employees
Get current Onboarding list of employees
4. Ease of Use
Easy to enter data in excel file.
Need one time connection with Power BI to instantly get the dashboard populated.
5. Automated Calculations
Fully Automated Dashboard and straight-forward data entry set-up in excel


How to use the Onboarding Tracker Power BI Template
Once you download the template, you'll receive two Power BI file (.pbix), two excel files (template and a sample file)
Here is the overview of steps to use the template.
1. Enter all the employee data, the onboarding activities status along with settings info in the Excel sheet. (please refer the sample file for reference)
2. Save the file, copy the path and close it (if Excel is saved locally)
3. If Excel is in a SharePoint folder, follow the steps here to get the File Path.
4. Establish a connection with the Power BI file using the steps mentioned here.
5. Once a successful connection is established, view the fully automated dashboards in the Power BI report, instantly.
6. For any changes made in the excel, please close the excel file after the changes (if Excel is saved locally) and refresh the Power BI file to get the updated dashboard.
This Best Practice includes
1 Zip file with 2 Power BI file and 2 Excel Files (Sample and empty template)
Indzara offers you this Best Practice for free!
download for free
Add to bookmarks