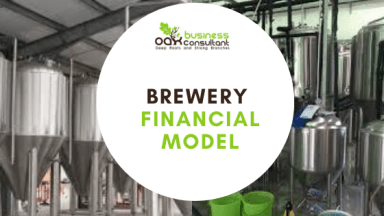 Brewery Financial Model
The Brewery Financial Model Perfect for all Brewery Business with all necessary inputs and tables

by Sadaf Abbas
CEO- Oak Business Consultant
Follow 39
Description
Our Brewery Financial Model is designed to help you make informed principal business and financial decisions bases on accurate reporting. Brewery Financial Model contains all relevant statements.

This brewery Financial Model allows you to forecast revenue and expenses of a startup or existing business for up to 60 months. It generates Three Financial statements (Profit and Loss, cash flow, balance sheet) on a monthly and annual basis., It also includes sales analysis, feasibility matrices, diagnostic tools. It also includes financing options analysis for the project including equity funding from investors. The model also helps you to track the key matrices and identify key risks.

The completed model will automatically calculate on the basis of the input sheet and Sales Input Sheet.

Input Sheet Includes assumption on:

-Investment
-Cost of Sales
-Tax rate
-Employees monthly Payroll
-Capital Expenditure
-Operating Expenses
-Inventory Ratio

Revenue Sheet Includes:

-Number of sales persons
-No of meetings with potential customers per month
-No of meetings that turn customers
-No of customers
-% of customer retained
-No of active customers
-Average monthly spend by active customer
-% of monthly customer spend on KGs
-% of customers spend on bottled beer
-Total kgs sold
-Total bottled beer sold

Model Output includes:

-Financial summary for startups.
-Fully Integrated Dashboard.
-Three Financial Statement (Profit and Loss, cash flow, balance sheet) on a monthly and annual basis.
-Break-Even Analysis with complete calculation and chart.

Benefits of Using This Brewery Financial Model Excel Template:

Confidence in the future:

Using our Brewery Business Financial model, you can easily make effective plans, manage risk and cash flows, and project your prospects for the next five years.

Graphical Visualization:

In our Brewery Financial model, all necessary Calculations and estimation are visually represented on a dashboard. You don't need to move sheets to compare data.

New Customers Acquisition:

Business Also invest money in advertising to acquire and retain current customers. You will have an advertising budget and a new customer cost of acquisition calculation fields in the template. This way, you will estimate newly acquired customers.

Update Easily:

You can easily update your template and forecast by simply input the data in a respected sheet anytime easily.

This Best Practice includes
1 Excel Model
Acquire business license for $350.00
Add to cart
Add to bookmarks