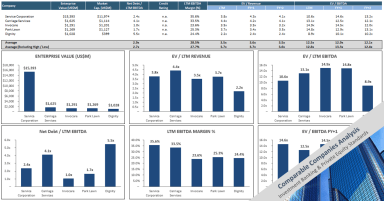 IB & PE Standards Comparable Companies Analysis
Comparable Companies Analysis Excel Template- IB & PE Standards

by Alex Lcs
Private Equity Professional
Follow
Description
Provides users with a complete, easy-to-use, easy-to-update, printable and shareable comparable companies analysis. This file uses the example of the funeral services industry and may be adapted to any industrial, manufacturing and consumer company. This template leverages first hand experience in investment banking and private equity deal making.

The case of the funeral service industry was used to present users with a tangible example of financial metrics computation, merger and acquisition impact on financial ratios as well as recent debt and equity financings. Users may add additional ratios pertaining to the specific industry being analyzed.

KEY SHEETS
- Cover page: Legend, architecture and introduction
- Dashboard: Comparable companies summary, Currency adjustment and graphical outputs
- Template: Ready to use blank template for financial metrics computation
- Carriage Services: Applied financial metrics computation
- Park Lawn: Applied metrics computation
- Service Corporation: Applied financial metrics computation
- Dignity: Applied financial metrics computation
- Invocare: Applied financial metrics computation

TEMPLATE STRUCTURE
The template is based on a logical structure aimed for simplicity and easily shareable with third parties.

MODIFICATIONS
If you require any modifications to the tool, I will be happy to assist with this. Please send me a message through the Eloquens site. I will regularly post updates as necessary.
This Best Practice includes
Excel Template
Acquire business license for $30.00
Add to cart
Add to bookmarks