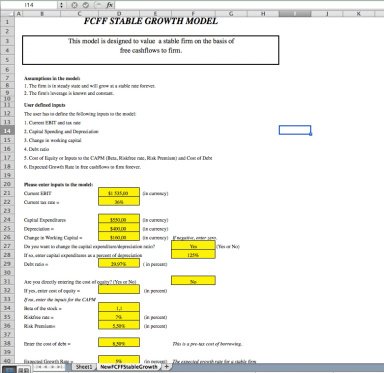 Free Cash Flow for the Firm (FCFF) Stable Growth Excel Model
An Excel FCFF Excel Model to Value a stable firm on the basis of free cashflows to firm.
Prof. Aswath Damodaran offers you this Best Practice for free!
download for free
Add to bookmarks
Further information
Outputs:
EBIT (1- tax rate)
- (Capital Spending - Depreciation)
- Change in Working Capital
Free Cashflow to Firm

Cost of Equity
Cost of Debt
Cost of Capital
Expected Growth rate

Value of Firm
Best suited for firms growing at the same rate as the economy

Assumptions in the model:
1. The firm is in steady state and will grow at a stable rate forever.
2. The firm's leverage is known and constant.