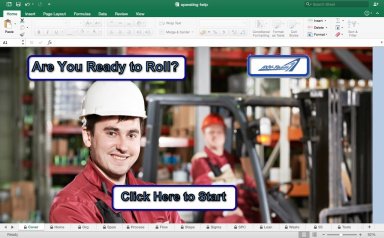 Operating Help Tool
Excel tool for effective management of your operating processes

by David Connaughton
Owner, ROI-Team, Inc.
Follow 35
Description
This Excel template is the perfect guide and aid to implementing efficient operating processes. This model will allow you to analyse and evaluate your systems of management and operating processes.

Using this model will enable you to get a clear idea of how your business plan, management systems and operating processes fit together.

This model includes 17 functional tabs:

- Home
- Organisation
- Span
- Process
- Flow
- Steps
- Stiga
- Statistical Process Control
- Lean
- Waste
- 5 S (Sort, Straighten, Scrub, Standardize, Sustain)
- Tools
- Ishikawa
- Pareto
- Line
- Balance
- Standard

Thus, this model offers a template to conduct a thorough and extensive analysis of your operations and management systems. The model includes helpful information on how best to structure the management systems in place within your business. This model offers useful diagrams and charts that demonstrate how your control and management should be structured, giving you advice on efficient management.

The model also includes diagrams that visualise the way in which projects and processes should be overseen from their beginning to conclusion.

The model will also demonstrate ways in which you can streamline your processes and make them as efficient as possible. This will help you to save time and avoid waste.

Ultimately, this excel tool offers structures and processes to ensure that your operations are efficient and effective. It suggests management and control structures, ways of overseeing processes and operating waste free.


Currently available at sale price.
This Best Practice includes
1 Excel Spreadsheet
Acquire business license for $2.00
Add to cart
Add to bookmarks