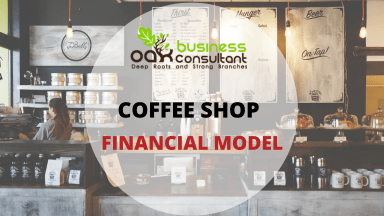 Coffee Shop Financial Model
The Coffee Shop Financial Model, Perfect for Startups with all relevant inputs and tables.

by Sadaf Abbas
CEO- Oak Business Consultant
Follow 35
Description
A coffee shop business related to the foodservice and restaurant industry but always stands out from the rest of them because of a specific range. Also, several confectionery products serve to enhance the taste of coffee, as well as with snacks. Nowadays, open a coffee house is a brilliant idea for those individuals who have never been associated with the food service.

Opening a coffee shop can be a cost-effective business if you have a proficiently developed concept and offer a high-quality product to customers, along with the optimum level of services. However, before that, you can't start a coffee shop without a startup financial plan. Our coffee shop financial model designed and developed by the professionals will provide you the assistance to compute the startup summary, detailed monthly and yearly profit and loss statement, and KPI to measure business performance in detail.

Based on Input and sheet and Revenue Sheet, this model will automatically calculate the further projections and estimations.

Input Sheet will be based on the assumptions which are as follow:

- Investment
- Cost of Services
- Tax rate
- Employees monthly Payroll
- Capital Expenditure
- Operating Expenses.
- Inventory Calculation

Revenue Sheet will include:

- No. of Visitors from paid ads
- Growth rate
- No of Active Customers
- No Repeat Customers.

This Coffee Shop Template consist of several Sheets which are as follow:

Input Sheet

Revenue Analysis Sheet

Startup Summary with Cost segmentation and Utilization Funds Chart

5-Years Detailed Monthly Profit and Loss Statement with monthly profitability chart.

5- Years Annually outlook of Profit and Loss Statement.

Balance Sheet Statement provides you a complete overview of the current 5- years projection of your

Assets and Liabilities and Equity Accounts.

5-years Project Evaluation, which calculates Return on Investment, Investor's Future Equity Share and Cash Burn Rate Analysis.

Break-Even Analysis Sheet with the visual representation of Break-Even Sales per year and Contribution Margin%.

Diagnostic Tools Sheet which calculates the several KPI and Ration, such as Operating Expense as % of Sales, Gross Margin Percentage, etc.

Furthermore, a Dashboard that provides you a detailed visual representation of your Coffee Shop business's financial performance.



This Best Practice includes
1 Excel Model
Acquire business license for $300.00
Add to cart
Add to bookmarks