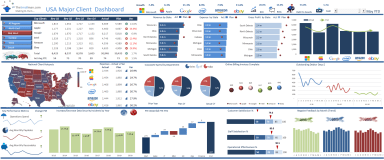 Client Corporate Excel Dashboard
A neat corporate summary report which can be easily adapted to incorporate financial and non financial data.
Acquire business license for $99.00
Add to cart
Add to bookmarks
Further information
To help users generate a succinct one page dashboard with as little add on work as possible.
Data display with normalised data feeding the calculations pages. This report would make a great addition to any management reporting suite.
This file is made with Office 365 - some of the features are specific to Excel 365.