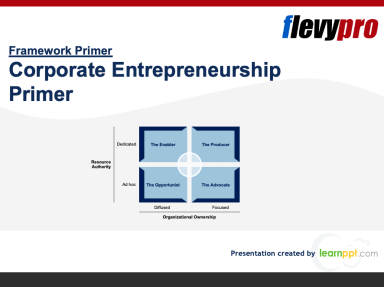 Corporate Entrepreneurship
Corporate Entrepreneurship helps stimulate Innovation, revitalizes the organization, & increases employee productivity.

by Flevy
Best Practice Frameworks & Tools (used by Fortune 100) - Strategy, OpEx, Digital, Change, Process
Follow
Description
Corporate Entrepreneurship is defined as the process by which teams within an establish organization conceive, develop, launch, and manage a new business that distinct from the parent organization by leveraging the parent organization's resources.

Corporate Entrepreneurship encapsulates more than just New Product Development. It also includes ventures to drive innovations in services, brands, channels, etc. Likewise, it can involve breaking from the existing business model of the parent organization–i.e. Business Model Innovation (BMI).

Studies have shown Corporate Entrepreneurship stimulates Innovation, revitalizes the organization, increases employee productivity, propels growth through disruptive offerings, and creates a superior market advantage. In fact, Corporate Entrepreneurship is a cost-effective approach to promote and maintain a Competitive Advantage.

So, how do adopt and drive Corporate Entrepreneurship?

Well, there are 4 dominant models of Corporate Entrepreneurship. The model an organization adopts is dependent on how it's positioned along 2 dimensions–organizational ownership and resource authority. Organizational ownership refers to who within the organization has primary ownership for the creation of the new venture. Resource authority addresses how the venture is funded and resourced.

1. The Opportunist

All organizations begin here as the Opportunist, where there is little organizational ownership or resource authority. Under this model, the organization has no deliberate approach to Corporate Entrepreneurship. Internal and external networks drive concept selection and resource allocation.

Since Corporate Entrepreneurship is not being actively managed in the Opportunist model, this model only works well in trusting Corporate Cultures. The Culture should also be fostered to support experimentation and Innovation. Without this type of environment, many ideas can fall through the organizational cracks or never receive sufficient funding.

Usually, after seeing some success in its entrepreneurial endeavors, the organization will start formalizing and adopting one of the other models.

2. The Enabler

The goal under the Enabler model is to facilitate entrepreneurial employees and teams. Thus, under this model, the organization provides both funding and senior management attention to prospective Corporate Entrepreneurship projects. The thinking here is that employees will be willing to develop new ideas if they have adequate, foundational support.

A great example of the Enabler organization is Google. In fact, both Gmail and Google Maps began as employee side projects.

Google allows employees to spend 20% of their time working on Corporate Entrepreneurial projects. Activities include promoting their ideas to colleagues, assembling teams, and building prototypes. At any given time, Google is supporting over 100 new business ventures at various stages of development. If a project succeeds, the team members are awarded significant bonuses (designated Founder's Awards)—up to millions of dollars.

3. The Advocate

The Advocate model exhibits strong organization ownership by evangelizing and promoting Corporate Entrepreneurship. There are 2 primary strategic goals of the Advocate:

a) Reinvigorate or transform Business Units.
b) Support Corporate Entrepreneurship teams.

4. The Producer

The final, and most mature model, is the Producer. As the most mature model for Corporate Entrepreneurship, the Producer provides full-service support by conceiving, screening, funding, coaching, scaling, and reintegrating new business concepts. This type of organization can even establish a Center of Excellence (CoE) for Corporate Entrepreneurship projects.

Interested in learning more about Corporate Entrepreneurship and its 4 operating models? Download our framework on Corporate Entrepreneurship.
This Best Practice includes
1 PowerPoint presentation
Acquire business license for $29.00
Add to cart
Add to bookmarks