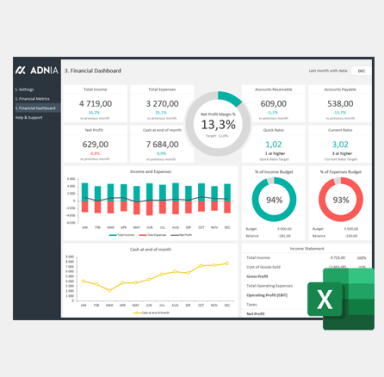 Financial Dashboard Excel Template
Our robust template features a total of 18 indicators

by Adnia Solutions
High Quality Excel Spreadsheet Templates and Dashboards
Follow 11
Description
The Adnia Financial Dashboard is a multi-language template to help businesses visualize their financial data and track fiscal performance. This spreadsheet template uses familiar Excel software to make it easy to enter and share information. Our unique and carefully designed dashboard provides a complete picture of your data- saving you time and hassle.

Our robust template features a total of 18 indicators, but for ease of use, you only need to enter the data for 11 indicators, the rest are calculated automatically! Easily organize and share up-to-date financial information and communicate with your colleagues in seconds.

Key Features

• The sleek dashboard can be easily interpreted for rapid decision-making
• View data for monthly and yearly totals
• Quickly and easily communicate with your staff, generating greater employee involvement
• See monthly data side-by-side to easily pinpoint necessary budget adjustments.
• Multilingual template: Select one of the available languages (English, French, or Portuguese) or manually translate to the language of your choice

Simple and Professional

• Fully unlocked template
• No confusing VBA code or Macro
• Spreadsheets ready for printing without Adnia logo
• Immediate download
• No monthly fees

Other Information:

Built for Excel 2010 or later
Licensed for Private Use Only (not for distribution or resale)
The template may NOT be sold, distributed, published to an online gallery, hosted on a website, or placed on any server in a way that makes it available to the general public.
This Best Practice includes
1 template with sample data; 1 template ready to receive your data
Acquire business license for $49.00
Add to cart
Add to bookmarks