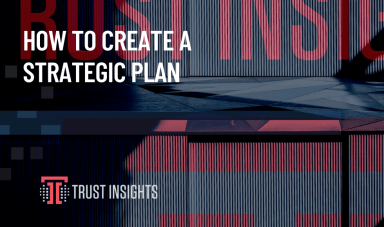 How to create a strategic plan
A simple way to create a measurable strategic plan using the STEM framework
Introduction
STEM stands for Strategy, Tactics, Execution, and Measurement. Your Strategy statement is why you're doing something. Your Tactics statement is what you're going to do. Your Execution statement is how you're going to do it. Your Measurement statement is how you're going to determine whether you were successful. 
Strategy is the why. It's essentially your goal. 


If you're struggling to write down your strategy statement, write a user story for each goal and tie everything else back to that.

As a [persona], I want to [intent]. so that [outcome].

thumb_upStrategy:As the CEO, I want to grow the Trust Insights community, so that we can drive the awareness of our services and expertise to the right audience.
There is a clear purpose for the goal. We want to help marketers solve problems. We want to offer support. We want to network. We want to be the people that you come to when you have a problem that needs solving. And then you tell your friends. And they tell their friends. 
add_shopping_cartContinue reading for free (70% left)