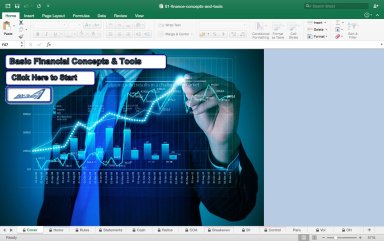 Finance Toolkit
Extensive business financing toolkit including 6 excel tools

by David Connaughton
Owner, ROI-Team, Inc.
Follow 32
Description
This is an extensive toolkit that includes 6 excel tools to help with the financing of your business projects. This is the perfect guide for helping you to monitor and project the finances of your business.

This finance toolkit includes:

- Basic Financial Concepts and Tools
- Business Cash
- Financial Tool Supplement
- Business Case Tool
- Insource / Outsource Analysis Tool
- Thruput Calculator

As such, using this extensive toolkit will allow you to conduct an overarching analysis of your business' financial plan and financial performance.

The business cash tool will help you to estimate and forecast just how much cash your business needs at different stages of its development. This workbook will enable you to construct a solid plan to accumulate cash when times may be hard for your business.

The financial tool supplement offers: a DuPont chart, payback curve, shareholder value analysis, currency combinations, activity based costing, price sensitivities, economic order quantities, constant investments, mortgage balance and real property profit. This tool will allow you therefore to analyse in detail your business' finances.

The business case tool will help you to analyse the business and decide when investments are necessary. This will help you to answer key questions like:

- Can we afford to make the investment?
and
- Will we get our money back?

The insource/outsource analysis tool will quickly generate information based on your return on investment relating to both insourcing and outsourcing.

Finally, the thruput calculator gives you the chance to estimate the potential upturn in profits through increased throughput and yield.

Ultimately, this is the perfect toolkit to conduct a thorough financial analysis of your business and help you make key decisions based on its financial performance.

Currently available at sale price.
This Best Practice includes
6 excel files, 1 word file
Acquire business license for $4.00
Add to cart
Add to bookmarks