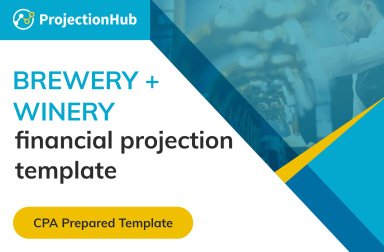 Brewery/Winery Financial Projection Template
A financial projection template built specifically for BREWERY / WINERY

by Adam Hoeksema
Co-Founder & CEO of ProjectionHub
Follow
Description
This template will help you build projections for your business. Here's how it works:
1) You download the unlocked Excel file.
2) You fill out your business information on several input tabs:
a. The cost of goods sold model will help you estimate the cost of the beer and wine you make. You can enter the costs of inputs per batch and set batch size for beer and wine, and the model will use your inputs to determine COGS for all of your beer and wine sales.
b. The revenue model will help you predict three types of revenue: taproom beer and wine sales, wholesale beer and wine sales, and food and other beverages sales in the taproom. The model covers five years and incorporates growth rates for many variables including capacity of taproom filled per month and expected spend per customer in the taproom, and number of wholesale customers and their expected purchase quantities. The revenue model also helps you calculate direct labor expense.
c. You will be guided to enter your other expenses in the operating expense model, which includes some suggested line items and amounts to help you get started. This model will populate the expenses and cash flows on the financial statements for you. You can enter your monthly expenses as either fixed amounts or you can set them as a percentage of revenue for variable items like payment processing fees. The first three months of the model are broken out separately so that you can enter start-up expenses.
d. The general assumptions model will guide you to enter balance sheet items such as fixed assets, loans, investments, inventory assumptions, and accounts receivable assumptions. The model will have you input some basic data and then it will calculate the difficult things for you: loan amortization, interest expense, depreciation expense, inventory purchases, etc.
e. The salaries and distributions model helps calculate monthly expenses for salaried employees, including items like employer taxes and benefits. This model also helps you plan for distributions (dividends, owner draws) made to owners.
3) The model automatically updates several output tabs:
a. The At-A-Glance tab shows you a financial snapshot in the form of graphs, charts, ratios, and financial summaries, all ready to be copied into a pitch deck.
b. There are six Financial Statement tabs: the annual formats of the income statement, cash flow statement, and balance sheet, and the month-by-month breakdowns of the same financial statements. Our balance sheets always balance, automatically.
c. The Investor Dashboard tab enables you, a lender, or an investor to see the effect of changing several of the main assumptions of the revenue model (spend per customer, for example). This tab presents the income statement from your model and a special, modified income statement that updates as you change the major assumptions. This enables you to see how sensitive your model is to certain variables without changing the data you already filled out.
4) If you need help, we're here. We can fill out or modify any of the templates we sell, and we're always happy to answer questions. When you call us, you can speak directly to the developers of the model, not a call center or customer service representative.
5) If the model doesn't work for you, we're happy to provide a refund.

This Best Practice includes
1 Excel File
Acquire business license for $99.00
Add to cart
Add to bookmarks
Further information
Template to create a financial projection for BREWERY / WINERY


Startup and existing BREWERY / WINERY seeking investment or loan funding