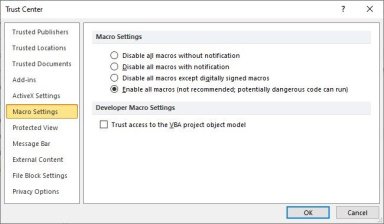 Check If You Can Run Excel Macros on Your Computer
Check that Matching_Items_from_Overlapping_Lists will work on your computer.
Matterwise offers you this Best Practice for free!
download for free
Add to bookmarks
Further information
Avoid purchasing the tool Matching_Items_from_Overlapping_Lists and then finding that you cannot run it.
Excel on PC, not Mac
Excel 2010 onwards, although if you are running Excel2010 it is no longer supported, and potentially vulnerable to hacking, so you should really be on Excel 2013 or later.