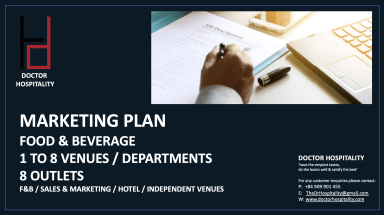 F&B Marketing Plan: Hotel Or Independent Outlets/Chain - 1 To 8 Venues / Departments
Food & Beverage Marketing Plan - 1 To 8 Venues / Departments

by Doctor Hospitality
FOOD, DRINK, HOTELS & the Art of SERVICE
Follow 18
Description
A Food & Beverage Marketing Plan are essential for success. It enables a SMART objectives approach (SPECIFIC, MEASURABLE, ACHIEVABLE, REALISTIC, TIME). Most of the required content for the Budget, the information, ideas and tasks must come from the outlet managers, chefs, Executive Chef & Director of Food & Beverage. How do you collate this all into one document that is concise as well as specific to each area of the business?

This one stop shop document will allow you to complete a Hotel with 8 outlets yearly marketing plan in less than 3 hours. The document will then be ready to print and submit to your General Manager, Owners & Corporate teams.

You can print the 1 or 2 pages for each outlet/venue and manager breaking down their targets, KPI's and task management into daily bite sizes pieces whilst ensuring the budgets perception becomes more palatable and achievable.


Key Features:
-

Contents:
- COVER PAGE:

- POSITIONING STATEMENT: Brasserie
- POSITIONING STATEMENT: Chinese
- POSITIONING STATEMENT: Courtyard Bar
- POSITIONING STATEMENT: Pool Bar
- POSITIONING STATEMENT: Daybeds
- POSITIONING STATEMENT: Grill
- POSITIONING STATEMENT: French / Local
- POSITIONING STATEMENT: Retail

- KPI's
- KPI's: Brasserie
- KPI's: Chinese
- KPI's: Courtyard Bar
- KPI's: Pool Bar
- KPI's: Daybeds
- KPI's: Grill
- KPI's: French / Local
- KPI's: Retail

- YIELD MAXIMIZATION
- 2021 PROMOTION CALENDAR
- WEEKLY PROMO Eg
- BEVERAGE CALENDAR YEARLY (e.g. Chardonnay Day)
- HASTAG # & SEO
- SEO BGT
- ACTIVITY PLANNER SAMPLE
- TARGET MEDIA LIST SAMPLE
- ACTIVITY PLANNER SAMPLE
- MEDIA EXPOSURE CAPTURE LIST SAMPLE

Simple & Professional:
- Microsoft Excel document / spreadsheet template
- Immediate download
- Fully unlocked template

What is included?
- One completed template ready to receive your data

Other Information: -
Built for MICROSOFT Word & Excel 2010 or later
Licensed for Private Use Only (not for distribution or resale)
The template may NOT be sold, distributed, published to an online gallery, hosted on a website, or placed on any server in a way that makes it available to the general public.

Contact us directly for any specific needs with your project, we will be happy to help:

--
DOCTOR HOSPITALITY
'have the simplest tastes, do the basics well & satisfy the best'

For any customer enquiries please contact via Private Message.

The Dr Hospitality team provides private and corporate clients alike with F&B consultancy, project management and brand management services, as well as turnkey and bespoke restaurant concepts solutions.

Our strategy consists in adopting a multidimensional approach to any set situation. We do not only take into account the local and global customer trends but as well as the elements pertaining to the social economic, commercial and logistic environment.
This Best Practice includes
1 Excel File, Fully Editable & Working 'Live' File & Ready for Print (30 Tabs, 40 Pages)
Acquire business license for $29.00
Add to cart
Add to bookmarks
Further information
Fastest Professional Marketing Plan ready for use within 3 hours, ready to print template