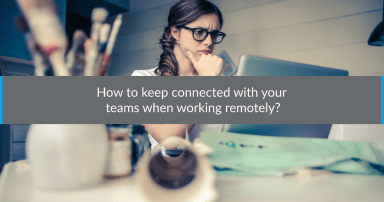 How to keep connected with your teams when working remotely?
How to keep connected with your team when working remotely?
Introduction
As the coronavirus epidemic is continuing to spread, companies are asking their employees to work from home for their own safety🏡. Those who are already accustomed to working from home will face little disruption in their daily lives, but for those who are not, the isolation measures will turn their lives upside down🙃.


Fortunately, thanks to several platforms and collaborative software (such as Wimi)📲, it is near impossible to actually be completely isolated when working from home🗣👫. Instant messaging, videoconferencing or audio calls allow for the continued contact with colleagues, maintaining a social link and encouraging teamwork, even from a distance✅.


To avoid relationships souring within the team and to raise moral in this confinement situation, here are 7 creative and original virtual activities to encourage communication, maintain a social link et motivate your teams from a distance😃👍🏼.
Step n°1 |

Virtual Coffee Breaks☕️

At work, we enjoy coffee breaks as a chance to catch up with colleagues☕️, discuss plans for the weekend🗣, exchange progress on current projects or take a moment to relax📈. This is important for company life, indispensable for work relationships and important to foster a cohesive team🤝.


Even when working from home🏡, it doesn't mean that this ritual has to disappear. Whatever the frequency (once or twice a day, once per week), organise a virtual coffee break with your entire team via videoconferencing from home💡. Make the most of this break to unwind together and try to avoid making it a work meeting👋🏼.


With the same idea in mind, you could organise a videoconference breakfast on Friday mornings to share a jolly moment with the whole team before the weekend🥐.

Step n°2 |

Virtual Breakfast🥐

A team breakfast is another key opportunity to strengthen and improve relationships between colleagues🤝. This is a chance to discuss and share stories on various subjects📚, related or unrelated to work, as well as to develop a friendly and positive work atmosphere😄. Team members that get on well with eachother will be more productive💪🏽.


Rather than leaving your co-workers to have breakfast on their own, suggest having your breakfast virtually with one or more colleagues🗣. To do so, create a group chat on the company instant messaging platform or pair up with a colleague to have breakfast with them via videoconferencing💬.


As a manager, you could likewise organise a virtual team breakfast once a week, with the idea in mind to maintain team spirit🎉.
add_shopping_cartContinue reading for free (70% left)