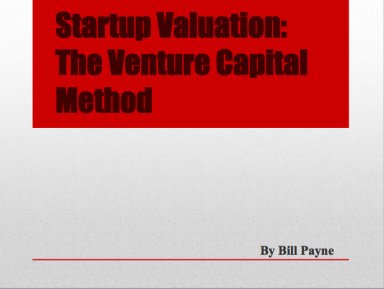 How to do a Startup Valuation using the Venture Capital Method
One of many startup valuation methodologies used to help you work out the value of your company.
Introduction
The Venture Capital Method (VC Method) was first described by Professor Bill Sahlman at Harvard Business School in 1987 in a case study and has been revised since. It is one of the useful methods for establishing the pre-money valuation of pre-revenue startup ventures. 
The concept is simple…since:


Return on Investment (ROI) = Terminal (or Harvest) Value ÷ Post-money Valuation


(in the case of one investment round, no subsequent investment and therefore no dilution)


Then: Post-money Valuation = Terminal Value ÷ Anticipated ROI


So, let's address each of these:
Step n°1 |

Terminal Value

Terminal Value is the anticipated selling price (or investor harvest value) for the company at some point down the road; let's assume 5-8 years after investment. The selling price can be estimated by establishing a reasonable expectation for revenues in the year of the sale and, based on those revenues, estimating earnings in the year of the sale from industry-specific statistics. 


For example, a software company with revenues of $20 million in the harvest year might be expected to have after-tax earnings of 15%, or $3 million. Using available industry specific Price/Earnings ratios, we can then determine the Terminal Value (a 15X P/E ratio for our software company would give us an estimated Terminal Value of $45 million). It is also known that software companies often sell for two times revenues, in this case, then, a Terminal Value of $40 million. OK…let's split the difference. In this example, our Terminal Value is $42.5 million.
add_shopping_cartContinue reading for free (70% left)