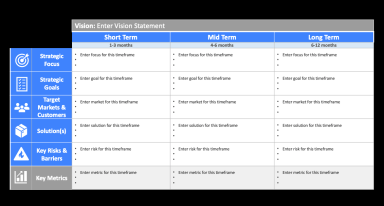 Business Strategy Map
PowerPoint template for one-page business strategy roadmap

by Soren Kaplan
Best-selling and award-winning author, Affliate at USC's Center for Effective Organizations, former Head of Strategy and at HP, keynote speaker & writer for Inc., Fast Company and HBR.
Follow
Description
Based on the article: https://www.linkedin.com/pulse/forget-your-plan-create-strategy-map-soren-kaplan/

Business strategy used to be a clear and methodical process. No more.

Today's disruptive technologies, social and environmental turmoil, and the pandemic, have collectively re-written the rules of strategic planning. This is especially true if you're going after a new market, creating a new-to-the-world product or service, or reinventing your business model. Gone are the days of traditional plans and forecasts. There's just too much uncertainty in the world now to be constrained by rigid planning processes.

So what do you do?

You create a Strategy Map.

A Strategy Map is a visual representation of your vision, priority strategic goals, and success measures that track progress. A good Strategy Map basically communicates what needs to happen to achieve your vision at a high level in the short, mid- and longer-terms - ideally on a single page.

The template includes the following categories, organized by what needs to happen in the short-, mid- and longer-terms:

Vision - what's the world you want to create in the future?
Strategic focus - how does your strategy needs to shift over time?
Strategic goals - what specific goals support your strategy?
Target markets & customers - what markets or customers will you tackle over time?
Solutions - what offerings will you provide and how will these change over time?
Key risks & barriers - what risks or barriers might you encounter?
Key metrics - how will you measure success?

Modify the categories in the template to suit your specific focus. And be sure to update the template regularly as you learn new things and as the world changes around you. That's what modern-day strategy is all about in today's disruptive world.
This Best Practice includes
1 PowerPoint presentation
Soren Kaplan offers you this Best Practice for free!
download for free
Add to bookmarks