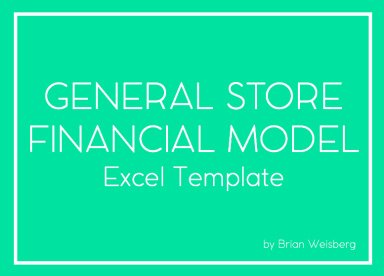 General Store Financial Model Excel Template
Complete and straightforward financial model for accurately budgeting your shop's financials.

by Brian Weisberg
Head of Finance and Business Operations at Tidelift, Inc.
Follow 20
Description
This General Store Financial Model, from serial startup finance leader Brian Weisberg, is a fantastic Excel Template for those looking to get their shop's finances in order.

The complete finance record takes into account certain assumptions, including expenses and ongoing facility requirements, in order to accurately calculate the overall profitability of the business. The financial model is organised into 4 sheets: Rolling, Actual Budget, and Assumptions.

On each of the first 3 sheets, the following records are actionable:

A. Profit and Loss
- Total Revenue:
- each subcategory (such as Merchandise or eCommerce) is able to record monthly transactions, transaction size, and revenue
- Profit Margin:
> this includes the In-store Sales and Total COGS
- Operating Profit:
> included here are the expenses such as Payroll, Travel, IT etc.
> the Total Operating Expense is also calculated

B. Profit and Loss Summary
- clearly stating the Net Profit and the Cumulative Profit

C. Cash Planning
- Inventory
- Cash Flows
- Budget Planning

D. Metrics
- Gross Margin and Gross Sales are included here

There is also a useful Cumulative Cash Flow diagram displaying the growth of your business as an easily digestible presentation.

The Assumptions sheet allows you to record specific expenses under the following divisions:
1. COGS (Cost of Goods Sold), which includes eCommerce, Shipping, Processing, Packaging Supplies etc.
2. Ongoing (monthly), which includes the Rent, Service Providers (for telecoms, internet) etc.
3. One-time expenses, including Legal Fees, Branding, Renovations etc.

Use this straightforward Excel model to protect your business from unexpected financial shocks by forecasting your budget accurately. Fill in the actionable cells with your account numbers and let Excel do the rest!
This Best Practice includes
1 Excel Spreadsheet
Brian Weisberg offers you this Best Practice for free!
download for free
Add to bookmarks