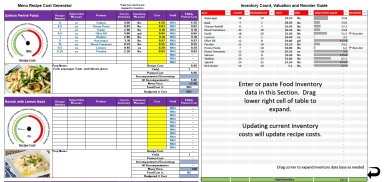 Menu Item Recipe Cost Generator
Dynamic Recipe Costing from Inventory Price Changes (Combo Metric & US Version)

by Steve Lindsey
Key Information at a Glance
Follow 22
Description
The discipline of recipe costing, also known as menu costing provides a critical role in profit generation for the restaurant and catering industry. Recipe costing is not only the basis for setting selling prices, but is critical in analyzing profit contributions by menu item in the overall sales mix.

Just as it is important to create a recipe cost, sometimes referred to as a recipe card, it is equally important to update the recipe costs as vendor prices change over time. Costs can creep up within a matter of days. It is critical that reactive measures are made, such as:
1) Adjusting the sales price.
2) Changing ingredients, such as swapping one vegetable for another as their prices fluctuate.
3) Changing portion size.
4) Change from one vendor to another who sells at a favorable cost.

Updating recipe costs is not always on the radar of a Chef who is busy managing the kitchen and ensuring that customers are receiving the best food ever. The process must be streamlined in order to achieve success.

The Recipe Cost Generator is a tool designed to save hours in manually updating recipe cards, by linking recipe costs to a food inventory listing. Any change of prices in the food inventory will update any recipes with that ingredient. As long as prices in the inventory are updated., all prices in the recipe cards will be updated.

The template can also be used as an inventory reorder guide. Within the food inventory section of the template, reorder levels can be set, so that low inventory levels are flagged once the threshold is met..

The Recipe Cost Generator will drive revenue, control costs, keep the Chef in the kitchen and keep your customers happy!

This Best Practice includes
Excel Template
Acquire business license for $39.00
Add to cart
Add to bookmarks