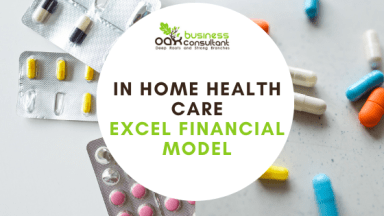 In-Home Health Care Excel Financial Model
In-Home Health Care Excel Financial Model is an exceptionally adaptable template with a complete financial framework.

by Sadaf Abbas
CEO- Oak Business Consultant
Follow 33
Description
This In-Home Health Care Excel Financial Model is an excellent and dynamic ready-to-use Excel tool to create a clean and efficient financial plan to summarize key financial metrics and results. It will help you check profitability and valuation, plan annual incomes and pre-exports, investments, assess employees' needs and salaries, etc.

This In-Home Health Care Excel Financial Model is designed and developed by highly qualified finance professionals. Hence, it will help you compute the startup summary, detailed 5- years monthly and yearly profit and loss statement, and KPI to measure business performance in detail. This model is a highly dynamic and user-friendly Excel template for the preparation of 5-year financial statements such as; Income Statements, Balance Sheets, and Cash Flow statements with a deeply monthly timeline for a startup or existing health care business generating revenue. The model follows good practice financial modeling principles and valuation KPIs includes Break Even Analysis, ROI, FCF, etc., and incorporates a discounted cash flow valuation calculation using the projected cash flows.

The objective of this In-Home Health Care Excel Financial Model is to take every opportunity possible to help your business grow and try to work around keeping threats such as liquidity away from the business and to improve financial wealth for the owner and to build a good reputation within the community.

Key Inputs of In-Home Health Care Excel Financial Model

Advertising Budget – Input is linked to Sales; the more you spend on the advertisement, the more sales you'll generate.

- The growth rate of Visitors- at what rate your visitors approach you to your health care center

- Percentage of Converted Repeat Customers – At what percentage of new total customers come to
your website repeatedly.

- Cost to acquire a single customer

- Percentage of Clients that leave

- First Visit Patient Average Charges

- Average Price spent by the ongoing patient

- Capital Expenditure Amount in the First year

- Tax Rate

Key Features of In-Home Health Care Excel Financial Model

Input Sheet

This model excel template contains an input sheet that, when changed, impact the calculations and, therefore, the changes are applied to all relevant sheets. Since our financial model always has built-in flexibility, it displays different outcomes or final calculations based on changing a few key inputs.

Startup Summary

This sheet provides you and your investors an analysis of all the investment requirements of a new start-up. It helps the business to present a snapshot of the company to prospective investors and help to raise capital.

Income Statement

The Income Statement sheet of the In-House Health Care Excel Financial Model is perfect for those who require regular reporting and details. Additionally, Income Statement contains all revenue streamlines with gross earnings, net earnings linked with revenue analysis to ensure accurate reporting. We understand the goal of every medical practice business is to make a profit for that, there must be a mechanism that helps the business owners to determine whether they are making profits or otherwise.

Balance Sheet

This balance sheet enables you to analyze your position of current assets, fixed assets, liabilities, and equity. This also allows you to monitor your accounts receivable, accounts payable, accrued expenses, etc. Therefore this specif e-commerce financial model gives you the perfect space to analyze your key financials balance accounts.

CashFlow

The Cash Flow statement is one of the most important financial statement because each e-commerce business's main goal is to generate cash flow. This shows how much business has consolidated money and how much is not enough to attract additional financing. This sheet also contains a dedicated sheet to monitor and analyze your company cash-ins and out. This cash flow statement is based on several key inputs, such as yearly income, working capital, long-term debt, net cash, etc. This calculation is then used to compute your net cash flow, beginning and end cash balances. This is a perfect template for modeling your cash flow analysis.

Valuation Analysis

In this sheet, you will calculate all the necessary data for the investors. The minimum return on funds invested in its activities capital, Free cash flow, which is the cash flow available to all investors, including shareholders and creditors. Net Present Values of your company, IRR, and future equity value of investor. Along with this valuation analysis, this sheet also includes the chart of Break-Even Analysis which refers to the point where your total sales contribution refers to fixed cost at zero profit and loss. This technique is primarily based on the marginal costing that behaves differently at a different level of output activity.

Diagnostic Tools

Since we added a unique table that automatically calculates the data, it provides financial commentary about the company's financials such as Net Profit Margin, Gross Profit ratio, etc.

DashBoard

Users and readers respond and process visual graphs better than data. Furthermore, This dashboard provides you a graphical management tool that enables you to track all your relevant financial KPIs, improve cash management, and allow you to track expenses, sales, and net revenue in detail to meet and outperform the financial objectives of your online business.

The Benefits of the In-House Health Care Excel Financial Model

Investor's Friendly

All related investor metrics are included; therefore, investors will appreciate the full transparency on an Event Management financial model while considering to invest in your business.

Save Money & Time

This Financial Model excel template enables you to begin your startup planning with the least fuss and maximum of help. No composing equations and formulas, no designing, no programming, no outlining, and no costly outside specialists required. Plan the development of your business instead of around with insignificant techy things.

Easy To Use

It is incredibly easy and simple to use a financial model that will enable you to monitor the financial performance and valuation of future trends and decisions. Whether you have advanced or basic level financial knowledge, you can optimally use this model to make wise and smart decisions.

Understand the Viability of Each Single Item

Our In-Home Health Care financial model template will help you figure out which product categories and combinations bring an enormous benefit and which one ought to be improved. Hence, you will have to share the business measures for multiple items to assess the cost of goods sold, including the price of items themselves, their stockpiling, work, and other overhead expenses.

Graphical Visualization

In this model, all necessary Calculations and estimation are visually represented on a dashboard. You don't need to move sheets to compare data.

This Best Practice includes
1 Excel File
Acquire business license for $350.00
Add to cart
Add to bookmarks